Hotels to remember: Capaccio - Cilento
Capaccio - Cilento: introduction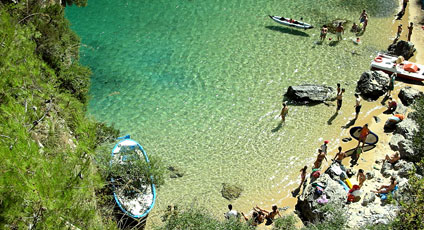 The Cilento represents a veritable treasure chest in which the ancient heart of Southern Italy's Campania region is conserved. A landscape unchanged by the passage of time, scattered with tiny villages and ancient stone, the Cilento is home to some of the world's most important monuments; sites of great historic and artistic interest such as Paestum, Velia and the Padula Charterhouse, and to wonders of nature among which the Caves of Pertosa, the National Nature Reserve of the Cilento and the Marine Park.
Not to be missed: the archaeological site of Paestum, perhaps the most beautiful city of the Magna Graecia, and awarded world heritage status by UNESCO for its magnificent Doric temples, and the National Archaeological Museum of Paestum.
The town of Capaccio is situated in a splendid panoramic position dominating the temples of Paestum and a large section of the gulf of Salerno. Religious buildings, dating back to the 1700's, include the convent of the Capuchin monks, which houses the Museum of the Great Tour, and the Church of St.Pietro Apostolo , this latter adorned with fascinating frescoes.
Capaccio - Cilento: suggestions from the hotels
Gaetano Serluca
(General Manager)
4 Star Hotels

We are located on only 50m from the sea with pool and beach. Free shuttle service to Salerno downtoun to catch ferries to Amalfi, Positano, Capri or train to Pomei, Sorrento and Naples. Restaurant and free internet for guest. (Hotel Olimpico) →
Antonella Gorga
(Owner - General Manager)
Small Boutique Hotels

Paestum, a UNESCO World Heritage Site and the perfect place in which to experience the countryside, culture and cuisine of Cilento - within minutes of the Mediterranean sea. (Il Cannito) →
Capaccio - Cilento: places to see in the area