Hotels to remember: Vietri Sul Mare
Vietri Sul Mare: introduction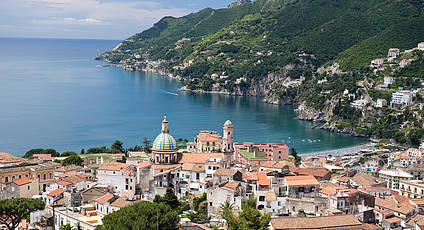 Overlooking the sea, Vietri Sul Mare is sheltered from behind by the Mount St Liberatore and Mount Falerio. The town is internationally famous for the production of antique ceramics which dates back to Medieval times and is still of prime importance to its economic prosperity.
Today the Ceramics of Vietri have their own protected brand name. Amongst the artists to have made the Vietri ceramics unique: Irene Kowaliska, Riccardo Dolker, Giovannino Carrano, Vincenzo Rispoli, Salvatore Procida, Guido Ambone and Andrea DArienzo. Vietri is also a popular tourist destination with its beaches and the Saracen Tower. Other areas are Molina, Albori, Raito and, inland, Benincasa and Dragonea, from here one can take mountain paths which are much loved by nature enthusiasts.
Not to be missed; the town's most important monument, the 17th century Church of St Giovanni Battista, with its Majolica covered dome which dominates the townscape. Nearby Valle di Albori is beautiful; this is the natural habitat of the carnivorous plant, Pinguicola Hirtifolia.
Vietri Sul Mare: suggestions from the hotels
Gaetano Serluca
(General Manager)
4 Star Hotels

We are located on only 50m from the sea with pool and beach. Free shuttle service to Salerno downtoun to catch ferries to Amalfi, Positano, Capri or train to Pomei, Sorrento and Naples. Restaurant and free internet for guest. (Hotel Olimpico) →
Emanuela Losasso
(Sales and Marketing Manager)
Countryside Residences

Located in a strategic position: between the Amalfi Coast and the Cilento. Ideal for various activities: hiking, biking, cooking school, yoga and pilates, swimming, tennis, kayaking, horse riding, golf. (Villa Rizzo Resort & Spa) →
Pina
(Hotel Raito staff)
5 Star Hotels
The Amalfi Coast already described in its glory and magnificence by the great Tuscan writer Giovanni Boccaccio, father of modern narrative writing. (Hotel Raito) →
Vietri Sul Mare: places to see in the area