Hotels to remember: Maiori
Maiori: introduction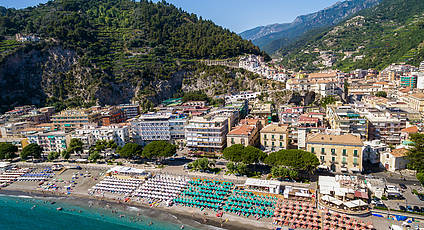 On the road between Amalfi and Capo d'Orso, on the largest inlet on the Amalfi coast one finds Maiori. The town is of ancient origins and was once the most important port of the Amalfi Republic. Situated on an ancient crossroads linking the coast with the inland, Maiori is today, a seaside resort of international fame, with the largest beach on the whole peninsula.
To visit: the Church of St Nicola de Thoro-Plano, the Collegiate Sanctuary of St Maria a Mare with its characteristic majolica dome and adjacent Museum of Sacred Furnishings, the Castle of St Nicola de Thoro-Plano, the Monastic complex of St Maria de Olearia, the Sanctuary of St Maria delle Grazie.
There are a number of artistic masterpieces which are preserved in these buildings, including paintings dating back to the 14th and 16th centuries. Behind Maiori is the Valley of Tramonti, which is famous because the sailors of the Amalfi Republic called the "Tramontana", the Northern wind, after it.
Maiori: suggestions from the hotels
Famiglia Toscanesi
(Proprietari)
Villas
Excellent destination for those who want to relax and enjoy a breathtaking view, in a private villa with own garden, terraces and a brand new swimming pool that offers unforgettable days. (Villa Minuta) →
Maiori: gourmet addresses
More suggestions and useful addresses
Maiori: places to see in the area