Hotels to remember: Paestum
Paestum: introduction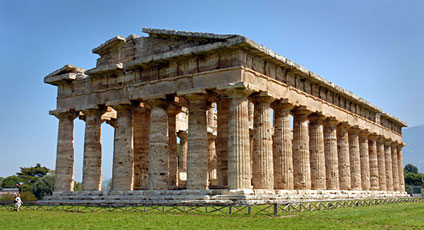 A short distance away from Salerno, in a position dominating the Piana dei Templi, rises Paestum. The city, rich in history and archaeological sites, offers the tourist an impressive display of natural scenery with its spectacular sea, and coastal landscapes and its green countryside, scattered with walking routes.
To visit: the Hera Sanctuary, the Basilica, the Temple of Cerere or Athena, the Amphitheatre, the Forum, the Diver's Tomb, the ancient walls of Paestum which, in approximately five kilometers of wall, form a pentagon around the city.
Built in more recent times one finds the Madonna del Granato, destination of pilgrimages, and the Church of the Confraternity of the Rosario. As far as traditional products of the area are concerned, particularly worthy of note are the Mozzarella di Bufala, the Paestum Artichoke, the Cilento Extra Virgin Olive Oil, and the marvelous local Figs.
Paestum: suggestions from the hotels
Gaetano Serluca
(General Manager)
4 Star Hotels

We are located on only 50m from the sea with pool and beach. Free shuttle service to Salerno downtoun to catch ferries to Amalfi, Positano, Capri or train to Pomei, Sorrento and Naples. Restaurant and free internet for guest. (Hotel Olimpico) →
Antonella Gorga
(Owner - General Manager)
Small Boutique Hotels

Paestum, a UNESCO World Heritage Site and the perfect place in which to experience the countryside, culture and cuisine of Cilento - within minutes of the Mediterranean sea. (Il Cannito) →
Paestum: places to see in the area