Hotels to remember: Salerno
Salerno: introduction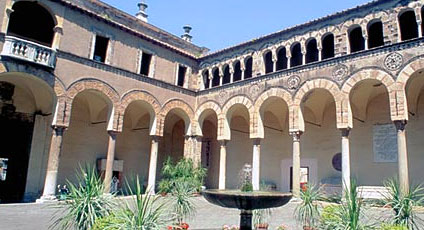 Salerno is situated in the largest province of the Campania region. The city is sited on a slice of land which continues from the Amalfi Coast, all the way to the Cilento, in succession of enchanting and spectacular landscapes, between sea and mountains.
The National Park of the Cilento and the Diano Valley, laurel woods, beach woods and the Getsemani Hills are all to be found in the Salerno area. Sites to visit include the Arechi Castle, the Cathedral dedicated to St Matteo, patron saint of Salerno where numerous relics are housed in the Cathedral Museum. The Verdi Theatre is well worth a visit. Events held in Salerno include the Frenesie di Corte Review and the Fair of the Crucifix.
The cuisine of Salerno features dishes from the Mediterranean tradition such as fusilli and cavatelli pasta served with meat sauces, vegetable omelettes, wild boar meat, grilled hare and 12 different types of cakes and pastries made with chestnuts. The artichokes of Paestum, the white figs and the San Marzano variety of tomatoes are famous throughout Italy.
Salerno: suggestions from the hotels
Gaetano Serluca
(General Manager)
4 Star Hotels

We are located on only 50m from the sea with pool and beach. Free shuttle service to Salerno downtoun to catch ferries to Amalfi, Positano, Capri or train to Pomei, Sorrento and Naples. Restaurant and free internet for guest. (Hotel Olimpico) →
Emanuela Losasso
(Sales and Marketing Manager)
Countryside Residences

Located in a strategic position: between the Amalfi Coast and the Cilento. Ideal for various activities: hiking, biking, cooking school, yoga and pilates, swimming, tennis, kayaking, horse riding, golf. (Villa Rizzo Resort & Spa) →
Pina
(Hotel Raito staff)
5 Star Hotels
The Amalfi Coast already described in its glory and magnificence by the great Tuscan writer Giovanni Boccaccio, father of modern narrative writing. (Hotel Raito) →
More suggestions and useful addresses
Salerno: places to see in the area