Hotels to remember: Monti Lattari
Monti Lattari: introduction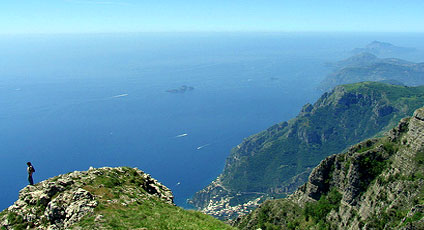 The Sorrentine Peninsula and the Amalfi Coast are not only famous for their superb seaside resorts, but also because of the mountains which tower above the whole area. In the Lattari mountains the tourist can not only descend towards the coast, but also penetrate the mountain woodlands.
There are a many paths which are perfect for excursionists. The itineraries to follow are endless, the most famous of these is that which leads from Termini to Punta Campanella, along a route which passes by defensive towers such as Torre Fossa, Torre Mont'Alto, Torre Recommone, Torre Nerano, then the chapel of St Antonio of Padua al Cantone, the Church of St Tommaso Apostolo in Torca. The "pathway of the Gods" leads walkers from the Caserma Forestale to Capo Muro, passing by Nocelle and St Maria del Castello.
Lastly, there is the itinerary "valle delle Ferriere", immersed in the spectacular scenery of the Lattari mountains with numerous waterfalls and springs such as Acqua Vracciara, Acqua Fredda, Acqua del Vecte, Acqua del Pertuso, Acqua del Sambuco and Acqua del Ceraso.
Monti Lattari: suggestions from the hotels
Nello Oliviero
(Manager)
Luxury Villas

Experience a luxury vacation in total privacy, reveling in local traditions and a warm family touch. All this, and the amazing fried "calzoni" homemade by Alina... (Villa Oliviero) →
Monti Lattari: places to see in the area