Hotels to remember: Positano
Positano: introduction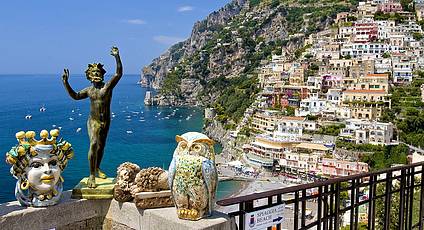 Positano's position is unique: stacked vertically on the slopes of the Lattari mountains. Sheltered by mounts Comune, Santa Maria a Castello, Sant'Angelo dei Pizzi, Paipo, Canocchia and Campo dei Galli, Positano has an enviably mild climate which makes it a perfect seaside resort.
There are panoramic views across the water towards the islets of Li Galli, known also as the "Sirenuse". It was on these three islets, the Gallo Lungo, Castellucco and the Rotonda, that, according to legend, the Sirens lived. Immersed in a spectacular landscape; Positano is not only an International tourist destination but also an important center for fashion design.
Indeed, one of the town's major attractions is its vast array of boutiques, lining the narrow lanes and alleyways with their displays of colourful garments, typical of the town. To visit: the prehistoric caves, the Li Galli islands, the Roman Villas and underwater archaeological remains. During the summer season visitors can attend events such as the Festivals held at Montepertuso and Positano, and the International Art of Dance Awards.
Positano: suggestions from the hotels
Diego Marzoli
(General Manager)
4 Star Hotels
The rooms boast stylish Mediterranean decorations, with colourful tiled floors, elegant chandeliers, and stylish furniture. (Palazzo Marzoli Resort) →
Diego Marzoli
(General Manager)
Residences
The Caravella overlooking the crystal-clear waters of the Mediterranean Sea, ideal locations for a summer holiday at sea but also for a romantic holiday during autumn or winter. (La Caravella Positano Beach) →
Guglielmo La Via
(Owner)
Villas

My strong passion it is the hospitalty. My Home is you home! I love suggest you the best experience to do in Sorrento and Amalfi Coast. Feel free to ask me what you need during your stay. (Relais Villarena) →
Positano: gourmet addresses
More suggestions and useful addresses
Positano: places to see in the area