Hotels to remember: Cetara
Cetara: introduction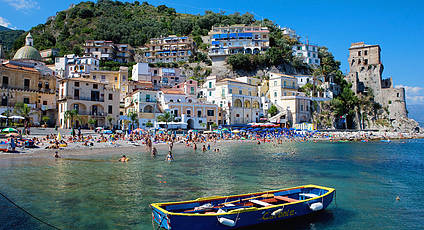 Monte Falerzio, rich in woodland and vineyards, dominates the valley in which Cetara can be found. Here is a natural paradise made up of a mixture of green citrus orchards and arid inaccessible areas, which then descends towards the sea. Those traveling along the Amalfi Coast road, in the section between Vietri and Punta di Fuenti, will be not be able to resist stopping here.
To see Cetara is like being catapulted back in time. The hamlet is, even today, reliant on the fishing, from which its name "Cetaria" then "Cetara" derives. It has a small bay and a stream known as the "Canillo". An important building is the Vicereale Tower, once used for defense purposes, now a private home. To see: the Baroque Church of St Pietro, the Church of St Francesco, the Convent of St Francesco, and the Church of St Maria del Popolo.
Traditional events include the Nocturnal Celebrations in honor of the Immaculate conception, the Tuna and Anchovy Fair, the Festival of St Pietro and St Paolo and the Naval Procession with Firework display for the Celebrations of the Patron Saint St Pietro's day.
Cetara: suggestions from the hotels
Pina
(Hotel Raito staff)
5 Star Hotels
The Amalfi Coast already described in its glory and magnificence by the great Tuscan writer Giovanni Boccaccio, father of modern narrative writing. (Hotel Raito) →
Emanuela Losasso
(Sales and Marketing Manager)
Countryside Residences

Located in a strategic position: between the Amalfi Coast and the Cilento. Ideal for various activities: hiking, biking, cooking school, yoga and pilates, swimming, tennis, kayaking, horse riding, golf. (Villa Rizzo Resort & Spa) →
Gaetano Serluca
(General Manager)
4 Star Hotels

We are located on only 50m from the sea with pool and beach. Free shuttle service to Salerno downtoun to catch ferries to Amalfi, Positano, Capri or train to Pomei, Sorrento and Naples. Restaurant and free internet for guest. (Hotel Olimpico) →
Cetara: gourmet addresses
Cetara: places to see in the area