Hotels to remember: Minori
Minori: introduction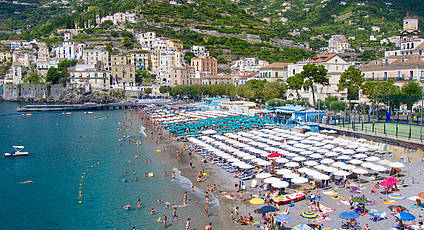 The tourist arriving in Minori will be struck by the town's architecture and the small beach. It is the perfect place in which to recover from the stress of our hectic modern lifestyle. Minori has immense appeal with its colourful painted houses.
In the past Minori was home to a busy leather industry as well being a ship building port. The grey clay of Sarno and Nocera is everywhere.
The clay is known for its qualities of malleability and lightness and is used not only in the buildings but also in many examples of religious art in the Cathedral of Minori, where numerous Doge of the Republic where buried, the Church of St Gennaro, the Church of St Giuliano, the Church of the Madonna delle Grazie (St Maria of the Rosario), the Church of St Giovanni Battista in the bay, the Church of St Nicola. The Bell Tower of the Annunziata is impressive. Visitors should not fail to make the short trip to the Grotta dell'Annunziata, once the site of a hospital.
Minori: suggestions from the hotels
Famiglia Toscanesi
(Proprietari)
Villas
Excellent destination for those who want to relax and enjoy a breathtaking view, in a private villa with own garden, terraces and a brand new swimming pool that offers unforgettable days. (Villa Minuta) →
More suggestions and useful addresses
Minori: places to see in the area