Hotels to remember: Ravello
Ravello: introduction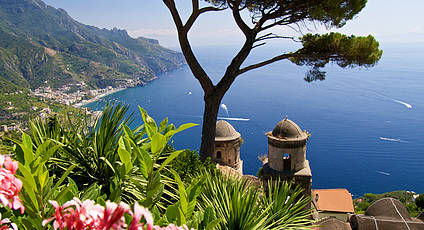 Between the Valley del Dragone and the Valley della Regina, up a supremely panoramic narrow road, which twists up from the coast towards the mountains, one finds Ravello . Its dominating position on the hill top offers the tourist a spectacular view over the whole of the Amalfi Coast.
The tranquility of the town greatly appealed to poets and writers and international jet set. The wealth of art works in Ravello is preserved in numerous ecclesiastical buildings such as the Cathedral of St Pantaleone, Patron saint of the town, a building which is striking because of its marble work; the adjacent bell tower, the Church of St Martino, the Church of St Angelo and the Church of St Giovanni del Toro.
The heart of Ravello is the Piazza Vescovado, with the Castle ruins, the Cathedral and Palazzo Rufolo. Villa Rufolo should not be missed, a building which is home to much of the art of Ravello and surrounded by splendid gardens, where numerous musical and cultural events are held. Villa Cimbrone is also well worth a visit.
Ravello: suggestions from the hotels
Famiglia Toscanesi
(Proprietari)
Villas
Excellent destination for those who want to relax and enjoy a breathtaking view, in a private villa with own garden, terraces and a brand new swimming pool that offers unforgettable days. (Villa Minuta) →
Ravello: gourmet addresses
More suggestions and useful addresses
Ravello: places to see in the area