Hotels to remember: Acciaroli


Santa Maria di Castellabate
Acciaroli: introduction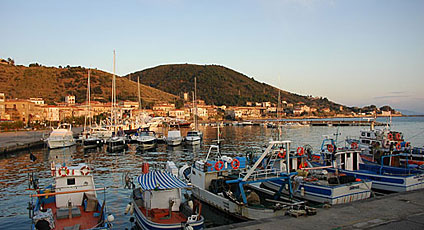 The Blue Flag and Five Sails status guarantee the quality of the sea which laps the shores of Acciaroli. This peaceful fishing village on the coast of Cilento, overlooking the Tyrrhenian sea, transforms each summer in exceptional tourist destination. A well established favourite for those travelling by boat, the port of Acciaroli has a capacity for dozens of boats and luxury yachts. It is here, in the harbour, that the town's vibrant social life takes place, the numerous sea edge bars and restaurants offering customers a splendid view across the waters.
Those yet to be owners of a luxury yacht, should be sure to book places on a boat trip so as to admire the long beaches and splendid coast of Acciaroli from the sea, and experience the same sensations as Ernest Hemingway who, legend has it, based the character of Santiago in his novel "The Old Man and the Sea" on a local fisherman called Massarone.
Another worthwhile trip is that to the National Park of Cilento and the Vallo di Daino. Jewels of the Cilento such as Agropoli, Palinuro and Marina di Camerota are all within easy reach.
Acciaroli: suggestions from the hotels
Antonella Gorga
(Owner - General Manager)
Small Boutique Hotels

Paestum, a UNESCO World Heritage Site and the perfect place in which to experience the countryside, culture and cuisine of Cilento - within minutes of the Mediterranean sea. (Il Cannito) →
Acciaroli: places to see in the area