Hotels to remember: Napoli
Napoli: introduction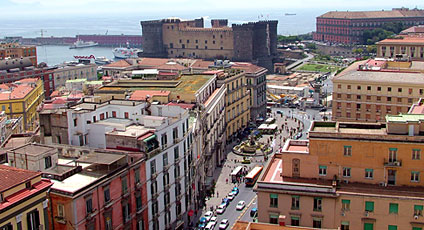 Between the Sorrentine peninsula and the Campi Flegrei, Naples gazes out on to the open gulf of the Tyrrhenian sea, within a spectacular setting, dominated by Vesuvius, the sea and the hillside, with one of the most beautiful and captivating townscapes in the whole of Europe.
Home to the most important port of all southern Italy, Naples has a great artistic, historical and cultural patrimony visible in numerous sites such as Piazza Municipio, Castel Nuovo (Maschio Angioino), the San Carlo Theatre, Palazzo Reale, Piazza del Plebiscito with its Basilica of San Francesco di Paola.
Within the city of Naples there are over 800 churches and ecclesiastical buildings including the Monastery of Santa Chiara, the Cathedral, the Monastery of S. Gregorio Armeno, the Church of Santa Brigida, the Church of the Spirito Santo, the Church of Monteoliveto, the Spire of the Immacolata, the Church of San Pietro ad Aram, the Church of San Paolo Maggiore, the Church of San Lorenzo Maggiore.
Well worth a visit, via San Biagio dei Librai, via San gregorio Armeno, the historic roads with numerous artists studios and craftsmen's workshops, Palazzo Cuomo, Palazzo Gravina, the Museum of Capodimonte, Castel Sant'Elmo, and Castel dell'Ovo.
Napoli: suggestions from the hotels
SANDRO GUIDA
(HOTEL MANAGER)
3 Star Hotels
"There are places that you go to, and once is enough..................and then there is Naples" cit. John Turturro (Decumani Hotel de Charme) →
Napoli: gourmet addresses
More suggestions and useful addresses
Napoli: places to see in the area
Bay of Naples: other destinations