Vico Street
(Guest Houses) Napoli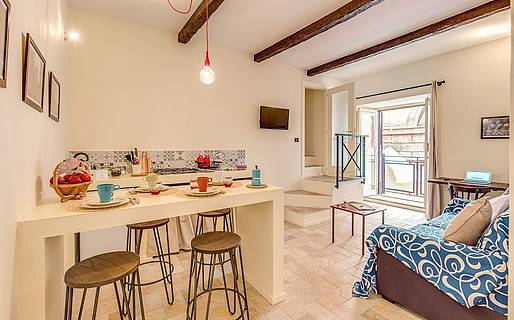 Charming apartments in the authentic heart of Naples
Three reasons why you'll love it here

Tucked in the heart of Naples' historic center near the most famous sights and monuments
Surrounded by the authentic atmosphere of Neapolitan history and folklore
Just 15 minutes from the main train station and Via Duomo
If you are planning a stay in Naples and want to experience the most authentic and vibrant atmosphere in the city, then you'll love our location right in the beating heart of Old Napoli: welcome to Vico Street, three comfortable apartments surrounded by the friendly bustle of the historic center.
Eat, Love, Pray...in Naples
The Vico Street apartments are located along some of the most important lanes in the historic quarter of Naples: Bella Imbriana and Monacello are on Via Atri, A Capera is on the famous Via dei Tribunali just steps from the landmark Sorbillo pizzeria and '''La Janara" is in Via Carmeniello, close to Via Duomo.
All four apartments have been recently modernized, have independent entrances, and are decorated in an informal contemporary style with charming Neapolitan flourishes to give them an unmistakable sense of place.
Free wifi, flat-screen tv, living space with sofa bed, bathrooms with enclosed showers and courtesy products: all you need in just a few square meters for a comfortable stay in one of the most strategic locations in the city for exploring on foot.
Bella Napoli!
When you stay at one of the Vico Street apartments, you'll be able to experience the authentic side of Naples, with its rich art and architecture, fascinating history, lighthearted city culture, and unforgettable cuisine. These tiny lanes of the center are crowded with delis and shops, outdoor markets, artisan workshops, and, of course, some of the city's best pizzerias and traditional restaurants, along with wine bars, pastry shops, and street food stands.
Walk each day to the most important tourist attractions in Naples, including the famous shops selling Nativity scene figurines on Via San Gregorio Armeno, the proto-Christian catacombs underground, and the "Veiled Christ" in Cappella Sansevero.
The apartments are a short walk from Naples' Stazione Centrale train station, or you can take the metro line 1 to the "Dante" stop. There are also a number of car parks not far from the apartments.
Vico Street amenities
Rooms
Safety deposit box
Kettle
TV
Hair dryer
Kitchenette
Various
Pets allowed
Car park
Shuttle service (airport / city center / beach)