Hotels to remember: Ischia
Ischia: introduction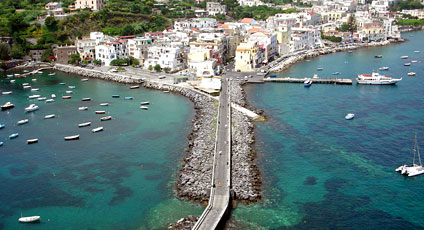 In the most westerly part of the Gulf of Naples, Ischia is the largest Partenopean island. Formed by six districts, Barano, Casamicciola, Forio, Ischia, Lacco Ameno e Serrara Fontana, Ischia has acquired International fame as a tourist destination thanks to its numerous thermal and thermo-mineral springs, result of the island's volcanic origins. The healing properties of these waters have been known since Roman times.
Sites to visit include the Church del Soccorso, the Church of St. Francesco, the Church of St. Maria di Loreto, the Tower and the Parish Church of St. Vito at Forio. At Ischia tourists should be sure to see the Argon Castle, the Cathedral, the Church of St. Maria di Portosalvo, the Sea Museum, the Museum of Arms, Armours and Instruments of Torture, the Island Museum, the Bishopric, and the Church of St. Pietro a Pantaniello.
At Lacco Ameno one finds the Church della Marina, the Pithecusae Archaeological Museum and the Sanctuary of St. Restituita. At Serra Fontana visitors can see the Church of St. Nicola and the Parish Church of St. Maria della Sacca.
Ischia: suggestions from the hotels
Ischia, the biggest of the Gulf of Naples islands, at about 10 miles from the mainland, is known as the Green Island on account of its rampant Mediterranean vegetation or the Island of Good Health, on account of its thermal springs (L'Albergo della Regina Isabella) →
Ischia: places to see in the area
Bay of Naples: other destinations