Albergo Palazzo Decumani
(4 Star Hotels) Napoli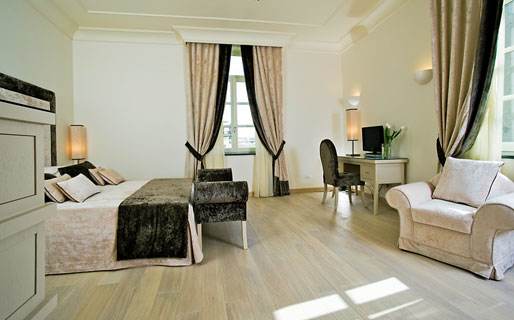 Meticulous restoration work and elegant interior decoration have transformed a Neapolitan palazzo dating back to the early 1900's in the charming Hotel Palazzo Decumani.
The hotel is located in the heart of the oldest part of the city of Naples, a district awarded World Heritage status by UNESCO.
Hotel Palazzo Decumani's elegant bedrooms feature durmast parquet floors, luxurious textiles and stylish items of contemporary furniture. Bathrooms are all fitted in travertine stone.
''Four single rooms with French bed, twenty double rooms, and four junior suite''' are available, each and every one equipped with the very latest in modern technology so as to offer maximum comfort. On arrival, you'll be greeted with a welcome drink.
Some of the world's most impressive churches, museums, monuments, and palazzi lie within just a few steps of the hotel: much visited buildings including the Church of Gesù Nuovo, the Church of San Domenico Maggiore, the Monastery of Santa Chiara, the San Severo Chapel, Pio Monte della Misericordia, the Convent of San Gregorio Armeno, Palazzo Gravina, Palazzo Cuomo, Palazzo dei Grandi Archivi, Palazzo Marigliano, Palazzo San Severino, the Church of SS Annunziata, Naples Cathedral, the Ospedale degli Incurabili, the Pinacoteca dei Girolamini, and the National Archaeological Museum.
Albergo Palazzo Decumani amenities
Rooms
Rooms for families
Rooms for the disabled
Internet connection
Free Wi-fi
Air Conditioning
Room service
Minibar
Safety deposit box
TV
Hair dryer
Bathroom with bathtub
Food and drink
Various