Hotels to remember: Capri
Capri: introduction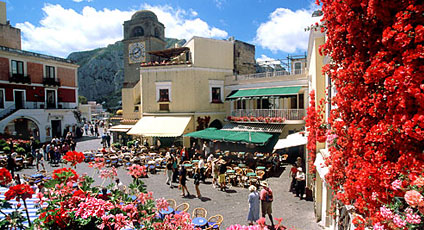 In the Gulf of Naples just off the end of the Sorrentine Peninsula, Capri is a veritable treasure trove bursting with natural beauty, with its stunning panoramas and dramatically beautiful coastline.
Numerous symbols of the force of nature can be found here, such as the Faraglioni stacks, the Natural Arch, Monte Solaro and the celebrated Grotta Azzurra. Culture and history have intermingled on the island since the times of the emperors Augustus and Tiberius who built their Imperial residences here.
To visit: Villa Jovis, Villa Damecuta, the sixteenth century Charterhouse of San Giacomo, the Church of Santo Stefano, Villa San Michele, built by the Swedish physician and writer, Axel Munthe, the Punta Carena, the second largest lighthouse in Italy, the Church of Santa Sofia, the Church of San Michele, the island's natural history Museum Centro Caprense "Ignazio Cerio".
Not to be missed, of course, a few moments relaxation in the legendary Piazzetta, the fashionable square alternatively known as the "world's sitting room", and the walk along via Camerelle with its exclusive boutiques displaying the most fashionable designer labels.
Capri: suggestions from the hotels
Melania Maucielo
(General Manager)
Small Boutique Hotels
Massa Lubrense, a magnificent reality that still retains the typical smells and flavors. Place for the most attentive people, is distinguished by its crystal clear waters, unspoilt bays, oil, lemons, provolone cheese and more ... (MelRose Relais) →
More suggestions and useful addresses
Capri: places to see in the area
Bay of Naples: other destinations