Hotels to remember: Sorrento
Sorrento: introduction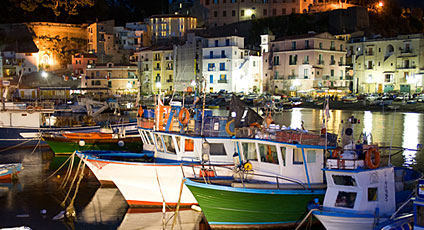 It is still not certain exactly when the town was founded, but Sorrento was, without doubt, already a strategic commercial town for both the Greeks and the Etruscans. Today, Sorrento is a tourist destination of international repute, made all the more popular by a series of ancient traditions including the production of wine, gastronomic products and fine craftsmanship.
Oranges, lemons, walnuts, and olives are all grown on the territory Sorrento and a great variety of cheeses are produced here. The town is famous for its wood engraving and lace work, a tradition that dates back to the seventeenth century. Local jewellers make exquisite coral necklaces in various styles and dimensions. All these goods can be found in the little shops tucked away in the alleyways of Sorrento.
Sorrento boasts a number of important religious sites such as the archbishopric, the Basilica of Sant'Antonio, the Church of St. Maria del Carmine, the Church of San Francesco d'Assisi, Sorrento Cathedral, and the Monastery of St. Maria delle Grazie. Also well worth visiting are the Correale Museum of Terranova, the Sedile Dominova and the Via della Pietà.
Sorrento: suggestions from the hotels
VILLA ORIANA RELAIS
(FAMILY)
Guest Houses

Villa Oriana Relais is the ideal place where you can enjoy a peaceful holiday in a family atmosphere. It is surrounded by an orchard with orange and lemon trees and lies on on a hill with a fantastic view of the Gulf of Naples and Vesuvius. (Villa Oriana Relais) →
Pierluigi D'Armiento
(Proprietario)
Villas

Need a strategical gateway to Sorrento Peninsula and Amalfi Coast? Villa D'Armiento is the best one, with a spectacular view from "Belvedere Marinella" just a few steps far from the residence. (Villa dei D'Armiento) →
Melania Maucielo
(General Manager)
Small Boutique Hotels
Massa Lubrense, a magnificent reality that still retains the typical smells and flavors. Place for the most attentive people, is distinguished by its crystal clear waters, unspoilt bays, oil, lemons, provolone cheese and more ... (MelRose Relais) →
Sorrento: gourmet addresses
More suggestions and useful addresses
Sorrento: places to see in the area
Bay of Naples: other destinations