Hotels to remember: Caserta
Caserta: introduction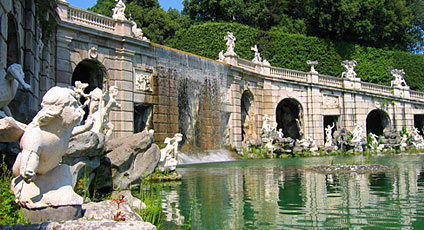 Caserta is situated in the Campania plain of the Volturno river. Its origins are uncertain, but without doubt the importance of Caserta was established with its occupancy by the Normans. The jewel in Caserta's crown is its Royal Palace, known throughout the world and destination for thousands of tourists.
Built in the Piazza Carlo III, by Carlo III di Borbone, in emulation of the Palace of Versailles by the Architect Luigi Vanvitelli, the Royal Palace of Caserta is today one of the largest and most sumptuous buildings in Italy with one thousand two hundred rooms and one thousand and nine hundred windows.
In the Caserta Royal Palace one can admire the Great Staircase, the Palatine Chapel, the Royal Apartments, the Hall of the Halberdiers, the Hall of the Guards, the King's apartments, the Hall of Alessandro, the Court Theatre, this latter a fine example of eighteenth century theatre design. The appeal of the Caserta Royal Palace has been made even greater by its extensive gardens, covering 120 hectares, complete with fountains and waterfalls and the English Garden. Not to be missed: a visit to the ancient town, the Borgo of old Caserta.
Caserta: suggestions from the hotels
SANDRO GUIDA
(HOTEL MANAGER)
3 Star Hotels
"There are places that you go to, and once is enough..................and then there is Naples" cit. John Turturro (Decumani Hotel de Charme) →
More suggestions and useful addresses
Caserta: places to see in the area
Bay of Naples: other destinations