Hotels to remember: Pompei
Pompei: introduction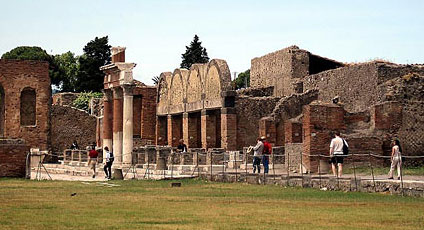 Inhabited since ancient times, the first traces of a fully established human settlement date back to the seventh century B.C, when Pompei was used as a strategic commercial center by the Etruscan and Greek populations who chose the location for its opening on to the sea.
The world wide fame of Pompei is, without the shadow of a doubt, linked to the eruption of the Vesuvius of August 29th of 79 A.D. which completely buried the city and the neighbouring towns of Herculaneum and Stabia.
The hidden town was discovered by pure chance in 1594 by the Architect Domencio Fontana during the making of a trench. Excavations were initiated in 1748 by Carlo di Borbone whilst in the more recent past digs were supervised by Amedeo Maiuri in 1924 and by De Franciscis for those of 1961 which resulted in the uncovering of three fifths of the entire city.
To visit whilst in Pompei, in addition to the archaeological site: the Amphitheatre, the House of Vettii, the House of Faun, the House of the Silver Wedding, the House of Menander, the Sanctuary of Pompei, the Basilica, the Museum of the Papal Sanctuary of Pompei, the Vesuvian Museum G.B. Alfano, the Temple of Apollo and the Villa of the Mysteries.
Pompei: suggestions from the hotels
VILLA ORIANA RELAIS
(FAMILY)
Guest Houses

Villa Oriana Relais is the ideal place where you can enjoy a peaceful holiday in a family atmosphere. It is surrounded by an orchard with orange and lemon trees and lies on on a hill with a fantastic view of the Gulf of Naples and Vesuvius. (Villa Oriana Relais) →
SANDRO GUIDA
(HOTEL MANAGER)
3 Star Hotels
"There are places that you go to, and once is enough..................and then there is Naples" cit. John Turturro (Decumani Hotel de Charme) →
Pierluigi D'Armiento
(Proprietario)
Villas

Need a strategical gateway to Sorrento Peninsula and Amalfi Coast? Villa D'Armiento is the best one, with a spectacular view from "Belvedere Marinella" just a few steps far from the residence. (Villa dei D'Armiento) →
More suggestions and useful addresses
Pompei: places to see in the area
Bay of Naples: other destinations