Boutique & the City
Not sure where to stay? Check out some of our best boutique sleeps in a few of our favorite Italian cities.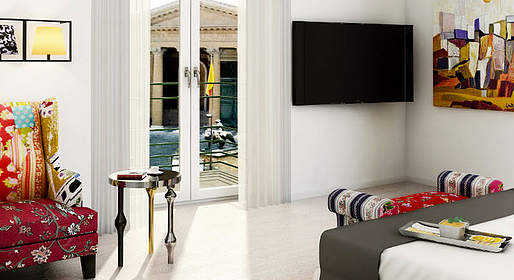 Early spring is the perfect time of year for an Italian city break: no queuing for hours to get into that world-famous gallery, no more having to get up at the crack of dawn to see the sights before the arrival of the scorching midday sun (and the hoards of day-trippers), no more battles with the air conditioning. Just lots of blissfully uncrowded museums and art exhibitions, guaranteed places in the restaurants everybody's been raving about, and low season prices in some of the country's most charming hotels.
Not sure where to stay? Check out our list of some of the best boutique sleeps in a few of our favorite Italian cities:
Imperial Art Hotel - Merano
More than a hotel, Merano's Imperial Art is a collection: a collection of twelve unique rooms, each one designed and decorated by a local artist. Our favorite? The stunning Paradise Loft, with its whiter than white interiors and panoramic, timber-floored terrace with Jacuzzi for two...
Located on the city's elegant Corso Libertà, in what was once the city's Cafè Westminster, the Imperial Art lies within easy reach of Merano's thermal baths, the Puccini theater, and Passirio promenade, making it the ideal base for a wellness escape, cultural weekend, or shopping spree.
Maison Matilda- Treviso
By far the coolest place to stay in Treviso, boutique B&B Maison Matilda has just 6 individually appointed bedrooms, featuring a clever combination of original 19th century and contemporary designer furnishings.
When not relaxing in the privacy of their rooms, guests get to chill and chat in Maison Matilda's drawing rooms or in the attractive internal courtyard where a delicious all-day breakfast is served.
Hotel Milano Scala - Milan
If you fancy brushing shoulders with models and moguls in Milan, check-in to this seriously stylish new hotel, slap-bang in the heart of Italy's fashion and finance capital.
After a hard day's work or shopping, take the lift to the Sky terrace to see the sun setting over Milan, and the spectacular views of the Sforzesco Castle and the Cathedral. Glamorous and green too, Hotel Milano Scala boasts a heat exchanger system designed to produce clean energy and a restaurant serving dishes prepared using only the freshest of locally-sourced organic ingredients.
Bloom B&B - Venice
What do you get when you mix classic 18th century Venetian style with cutting-edge design and technology? In Venice, you get Bloom, the trendiest B&B in the whole of the lagoon city.
Walk into your room in this beautifully restored 15th century building to be greeted by a veritable explosion of pink and purple velvet, shimmering silk, swirling damask wall coverings, and hand painted majolica.
And the wow! factor doesn't end here: climb up to the rooftop terrace for pre-dinner drinks and a view of Venice you'll never forget.
Borgo di Genova - Genoa
Tucked away in the heart of historic Genoa, between the characteristic caruggi and the sea, finding Borgo di Genova is a bit like finding hidden treasure.
Ideally located if you want to spend a weekend visiting Genoa's aquarium, Renzo Piano's Bolla, or the nearby seaside towns of Camogli and Santa Margherita Ligure, this B&B provides top-notch accommodation in just 4 freshly furnished rooms and a breakfast which is guaranteed to satisfy even the largest of appetites.
Residence Petronio - Bologna
If you're looking for a stylish, affordable and centrally-located base in Bologna, you can stop, because we've found it! Situated within steps of the Two Towers, Residence Petronio is comprised of four two bedroom apartments complete with living-dining room and kitchenette, ideal for a family, group of friends, or colleagues.
For the best views, book the Re Enzo attic suite, with terrace overlooking the rooftops of Bologna.
Palazzo Tolomei - Florence
If you're ready to step back into the Renaissance, Florence is the right city to do it and Palazzo Tolomei the right boutique hotel. Right in the very heart of Florence, this opulent palazzo was expanded and embellished with sumptuous frescoes and stuccoes in 1695, in honor of the marriage of wealthy Florentine goldsmith Leon Battista Del Chiaro to Maria Ugolini. Recently transformed into a luxury hotel, this historic palazzo is arguably one of the most beautiful palaces in the whole of the Tuscan capital.
In addition to its sweeping frescoed halls, suites, and apartments, the hotel also has a fully equipped gym...frescoed, of course!
Costantinopoli 104 - Naples
How many boutique hotels do you know of right in the middle of downtown Naples, which have their own subtropical garden and pool? We only know of one, and that's Costantinopoli 104.
Like the ancestral crests and stained glass windows on the Neoclassical façade, many of the antiques and artworks which adorn 104's rooms date back to the 19th century and the time when the original owner, the Marquis Spinelli, lived in this striking Art Nouveau-style building.
This said, Costantinopoli 104 is very much a contemporary urban retreat, and you can expect to find as many modern artworks as period pieces in each of its 16 rooms.
Palco Rooms&Suites - Palermo
You'll have a hard time finding a more strategically located hotel in the Sicilian capital than this one: directly opposite Palermo's Teatro Massimo opera house and a mere 700 meters away from the city's magnificent Cathedral.
The awesome location is not the only reason why you should stay at Palco Rooms&Suites. Add the slick contemporary interiors, the super-accessorized rooms (there's everything from Nespresso coffee makers to iHome radio alarms) and the Sicilian sushi served for dinner, and you can see why this place is by far the hippest hideaway in town!
Our Insider is
Could you be our next Insider? Share your love of Italy by contributing to ItalyTraveller! See how!