Hotels to remember: Herculaneum
Herculaneum: introduction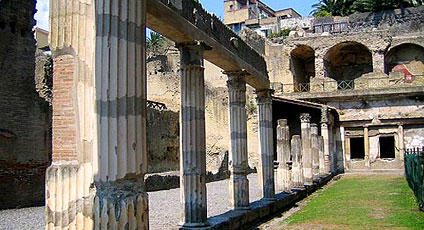 At the feet of Mount Vesuvius, in an area blessed with a superb mild climate, Herculaneum is known throughout the world for the remains of its Roman city buried, along with Pompei, under the ashes provoked by the eruption of Vesuvius in 79 A.D.
At the archaeological site of Herculaneum it is possible to visit the House of Argo, the House of the Deer, the House of the Gem, the House of the Bicentenary, the House of the Mosaic, the House of the Relief of Telephus, the House of the Carbonized Partition, the House of the Mosaic Atrium, the Samnite House, the Gymnasium, the Theatre, the Baths, the Suburban Baths and the Villa of the Papyrus.
As well as being site of great archaeological interest, Herculaneum has a flourishing economy thanks to its agricultural industry, and in particular its floricultural industry, responsible for one of Italy's most prolific productions of carnations and roses. Herculaneum is an important port with small fleet of fishing boats and merchant ships which provides employment for a great number of the town's inhabitants. At the large market of Pugliano both new and used items of clothing are sold.
Herculaneum: suggestions from the hotels
SANDRO GUIDA
(HOTEL MANAGER)
3 Star Hotels
"There are places that you go to, and once is enough..................and then there is Naples" cit. John Turturro (Decumani Hotel de Charme) →
Pierluigi D'Armiento
(Proprietario)
Villas

Need a strategical gateway to Sorrento Peninsula and Amalfi Coast? Villa D'Armiento is the best one, with a spectacular view from "Belvedere Marinella" just a few steps far from the residence. (Villa dei D'Armiento) →
VILLA ORIANA RELAIS
(FAMILY)
Guest Houses

Villa Oriana Relais is the ideal place where you can enjoy a peaceful holiday in a family atmosphere. It is surrounded by an orchard with orange and lemon trees and lies on on a hill with a fantastic view of the Gulf of Naples and Vesuvius. (Villa Oriana Relais) →
Herculaneum: gourmet addresses
More suggestions and useful addresses
Herculaneum: places to see in the area
Bay of Naples: other destinations