Hotels to remember: Procida
Procida: introduction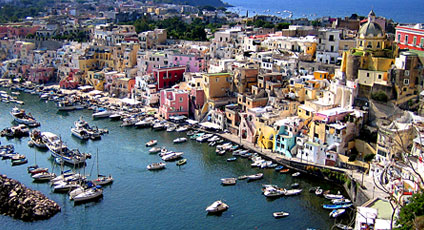 Procida forms part of the group of islands known as the "isole Flegree" which represent a natural continuation; Procida is, in fact, formed by four craters, Terra Murata, Pizzico, Solchiamo and Pozzovecchio.
Its history and renown is without doubt a reflection of the importance enjoyed by Ischia for many centuries right up to the end of the 1700's. Today, Procida is a fishing town and bathing resort, known for its ancient maritime traditions which have seen great part of the island's population aboard merchant ships travelling the world's seas. It is, then, no surprise that a nautical school of great repute is situated on the island.
Procida, in addition to its fishing industry, also has a flourishing agricultural tradition thanks to its lush vegetation with vineyards and citrus groves from which a spectacular white wine and deliciously scented lemons are obtained. Whilst on the island visitors should take the opportunity to visit the Church of San Michele, the Borgo of Terra Murata, the Castle and the Natural reserve of the islet of Vivara.
Procida: suggestions from the hotels
Vincenzo Scotto di Fasano
(Amministratore)
4 Star Hotels
Procida is the smallest of the islands in Italy's Bay of Naples and still conserves the authentic charm of a traditional fishing village (Albergo La Vigna) →
Procida: places to see in the area
Bay of Naples: other destinations