Hotels to remember: Pozzuoli
Pozzuoli: introduction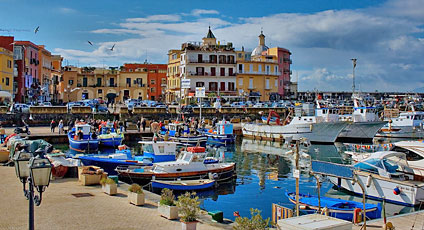 Constructed in 529 B.C, Pozzuoli lived its moment of greatest glory after the Romans conquered the Campania region in 338 B.C. Known at the time as "Puteoli", in virtue of the numerous thermal springs to be found in the area, Pozzuoli was one of the most important ports of the Mediterranean, a strategic merchant town as well as military base of great significance.
An indication of the magnitude of Pozzuoli's international commercial status and the historical importance reached between the 2nd and 1st century B.C. are the remains of numerous grand public buildings such as the Amphitheatre Flavio, the Cathedral, the Cardito Swimming baths and the Serapide Temple. The ceramic and glass making industries are still of great relevance at Pozzuoli.
Visitors should be sure they don't miss the chance to visit the Cuma archaeological site from where to admire fabulous views over the Bay, Capo Miseno, and the D'Averno and Lucrino lakes. Whilst at Cuma tourists can visit the Antrum of the Cuman Sibyl and the Roman Crypt, the Acropolis and the remains of a large thermal bathing establishment.
Pozzuoli: gourmet addresses
Pozzuoli: places to see in the area
Bay of Naples: other destinations