Locanda La Scuola
(B&B and Homes) Lusiana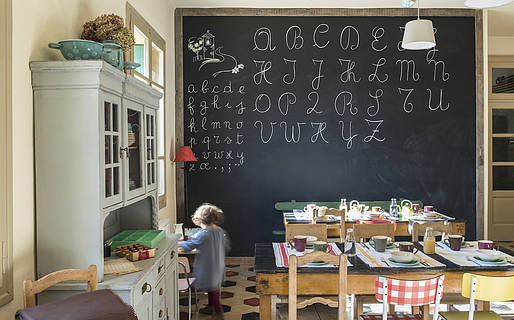 Locanda La Scuola
+39 0424 066244
Back to school!
Three reasons why you'll love it here

A country school transformed into a beautiful B&B
A slow holiday on the high plain of Asiago
Arithmetic, geography, history. No, not lessons - rooms!
What happens when you take an early 20th century edifice which, until the 1960's, was used as a school, and you transform it into a B&B? If you're lucky, you'll get somewhere like Lusiana's Bed and Brunch La Scuola - a tiny theme hotel on the high plain of Asiago!
Lessons in relaxation
The architectural features, colors and even some of the furniture in this unique B&B are just like those you might find in an Italian primary school, in the heart of the Venetian countryside.
Thinking of playing truant already? Don't worry, despite the school-theme, above all Locanda La Scuola is a B&B: a welcoming B&B in which to relish the slow, relaxing rhythms of life in the sleepy little town of Lusiana.
Top marks - in every subject
Geography, history, science, maths: rooms in Locanda La Scuola are named after the subjects once taught to the pupils who attended this little country school.
Whichever room you choose, you can expect to find lovingly-restored pavements, exposed wooden beams, antiques and a full range of modern amenities too!
Blackboards, maps, shelves filled with books: if your school days were the best days of your life, you're going to love this miniature theme hotel!
The Teacher's room is the most romantic of all. Located in the loft, the room features an antique sewing machine, a terracotta fireplace and a fabulous vintage bath tub positioned so as to allow guests to enjoy the view of the surrounding hills as they bathe...
Breakfast club
A generous breakfast of homemade cakes and typical local products is served until late in the Alphabet room or, in warm weather, in the court yard, in the shade of the lime trees.
On request, the owners will prepare picnic baskets, afternoon tea, and even organize art or cooking lessons.
Looking for an unforgettable venue for your Italian wedding? You couldn't find a more unusual place to tie the knot than B&B La Scuola and, for the ceremony, there's even a little country chapel, right next door ...
Locanda La Scuola
Via Campana, 20

-

36046

Lusiana

(Vicenza)
Tel.

+39 0424 066244
Locanda La Scuola amenities
Outdoor facilities
Rooms
Rooms for families
Rooms for the disabled
Free Wi-fi
Safety deposit box
Hair dryer
Bathroom with bathtub
Events
Various