Hotels to remember: Peschiera del Garda



Peschiera del Garda: introduction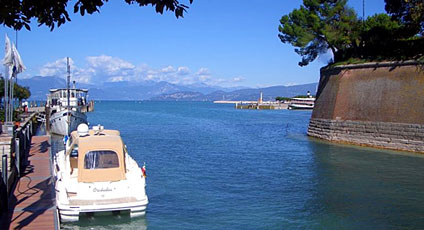 Sited at the head of the Mincio River, Pescheria del Garda has the most beautiful location on Lake Garda, and is one of the best served tourist destinations in the area, offering visitors every genre of leisure activity. To be seen: the Fortress, the Church of St Martino Vescovo, the Sanctuary of the Madonna of Frassino, the Roman remains.
Not surprisingly, fish features predominantly in local dishes. Among the many superb DOC wines: Nosiola, Chardonnay, Muller Thurgau, Pinot Bianco, Bianco di Custoza, Rosso Superiore, Rubino, and Groppello, the sparkling white spumante wines, Lugana and Bardolino Chiaretto and a host of Grappas.
Among the events held in Peschiera del Garda, the Street Artists' Festival, the Sailing competition Trofeo di vela città di Peschiera, Luganeggiando, the International meeting of classic boats, Festa dell'Ospite, Calici di Stelle, and the Palio delle Mura. Keen excursionists should head to the Broglie area.
Peschiera del Garda: suggestions from the hotels
Piergiorgio Serpelloni
(proprietario)
Farmhouse Holidays
Peschiera del Garda: gourmet addresses
Peschiera del Garda: places to see in the area