Hotels to remember: Vicenza
Vicenza: introduction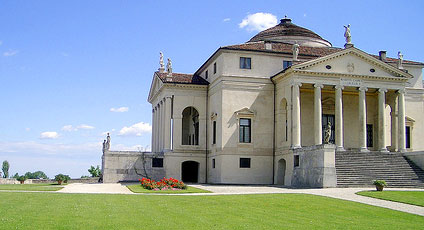 Vicenza is a place with a past rich in culture and works of art, particularly the work Andrea Palladio. Because of the importance of Palladio's work and, its great influence on architecture worldwide, UNESCO has awarded Vicenza Special Status.
There are countless places to visit: Piazza dei Signori, the Basilica with Tower, the Loggia del Capitanato, the Monte di Pietà, Corso Palladio, Palazzo Breganze, Palazzo Bonin, Palazzo Piovene, Palazzo Loschi Zileri, Palazzo Braschi, Palazzo Trissino, Palladio's House, the Church of St Corona, Villa Capra Valmarana (La Rotonda), the Basilica of Monte Berico.
The cuisine of Vicenza has age old origins, featuring dishes such as Baccalà alla vicentina, Risi e bisi, Snails with Rubbio celery, the Black Truffle of the Colli Berici, Asiago cheese, rice from Grumolo and wines such as the Vicenza DOC, Breganze and Gambellera. Among the many events there are the Organic Produce Market, Vivi Vicenza and the Chess tournament contested by human chess pieces.
Vicenza: suggestions from the hotels
Valeria Carfora
(Proprietario e gestore)
B&B and Homes

Lusiana, on the southern side of the Asiago Plateau, is the perfect stopover up in the hills for your journey in Veneto. Breathtaking views and gorgeous road trip to Bassano del Grappa, Vicenza, Verona, Venice, Padua, Cittadella ... (Locanda La Scuola) →
More suggestions and useful addresses
Vicenza: places to see in the area