Hotels to remember: Cortina d'Ampezzo
Cortina d'Ampezzo: introduction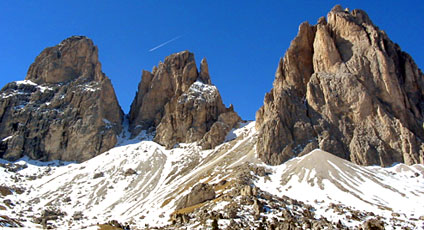 Cortina d'Ampezzo lies in a natural amphitheatre, encircled by the Pomagagnon and leads to the most beautiful group of mountains of the eastern Dolomites: the Antelao, the Sorapiss, the Croda da Lago, the Croda Rossa, the Tofane and the Cristallo. Cortina d'Ampezzo is known as the "Pearl of the Dolomites" because of this breathtaking setting.
It is the chosen destination of the International jet set, with endless facilities for tourists, from summer excursions to the 110 kilometers of slopes perfect for winter ski season.
The Nature Reserve of the Ampezzo Dolomites is simply spectacular. Leisure activities include shopping on the famous Corso Italia, and International Sporting events such as the Women's Alpine Ski World Cup and the Bob Sleigh World Cup. Numerous films have been shot here, for example, "For Your Eyes Only", "Cliffhanger".
One can find a variety of cultural institutions at Cortina d'Ampezzo such as the State Institute of Art, the Cortina Corpo Musicale, the Museum delle Regole, the Rinaldo Cardini Paleontological Museum, the Ampezzo Ethnographic Museum, the Mario Rimordi Museum of Modern Art.
Cortina d'Ampezzo: places to see in the area