Hotels to remember: Asiago
Asiago: introduction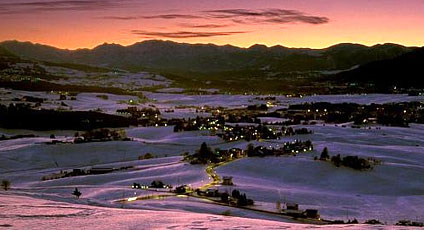 Asiago is the capital of the Asiago High Plane, a territory which, because of its historical importance and the beauty of its landscape, has a wealth of tourist destinations.
Asiago, or Cimbro di Sleghe as it was known in ancient times, offers tourists much to see: the Cathedral of San Matteo, the Military Shrine, the Park of Regina Margherita e della Rimembranza, the Astrophysics Observatory, and sporting facilities suc as the 18 hole Golf course and indoor Skating rink. Among the various Museums: the Cuchi Museum, the Military Museum of Tresché Conca, the Timbra-Roana Museum, and the History Museum dedicated to the 1915-1918 war.
The tourist can take part in the many festivals which are held on the Asiago High Plane, events such as the Festa del Prunno, the torchlight processions of the Fiaccolata Storica and the Fiaccolata del Kaberlaba, the Potato festival, the Festa dei Cuchi, the living Nativity scene, even Holy Mass in the Timbra dialect. Linked to the name Asiago, is the famous cheese Asiago Dop, the fifth most popular Dop cheese in Italy, the production of which, by law, is limited to the territory of Asiago.
Asiago: suggestions from the hotels
Valeria Carfora
(Proprietario e gestore)
B&B and Homes

Lusiana, on the southern side of the Asiago Plateau, is the perfect stopover up in the hills for your journey in Veneto. Breathtaking views and gorgeous road trip to Bassano del Grappa, Vicenza, Verona, Venice, Padua, Cittadella ... (Locanda La Scuola) →
Asiago: places to see in the area