Villa Capricorno
(Luxury Villas) Ischia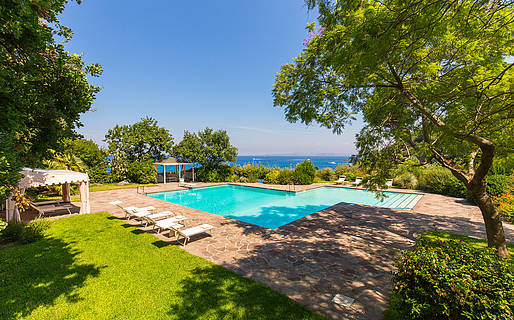 Ischia luxury at Villa Capricorno
Three reasons why you'll love it here

Your private thermal infinity pool
Direct access to the picturesque Spiaggia degli Inglesi beach
Starlit dinners with sweeping views over the Mediterranean
Villa Capricorno is a 19th-century luxury villa which welcomes you to one of the most sought-after areas of Ischia, where guests can relax in peace, explore the sights, and participate in the island nightlife.
Luxury and Elegance
Villa Capricorno is unique not only for its location, but for its elegant and classic decor.
Understated and refined are the two descriptions that best fit this luxury villa, furnished with designer furnishings and fine textiles, carefully selected to lend the indoors a bright and welcoming, yet sophisticated, style.
Marble floors and antique touches render the five suites in Villa Capricorno just that much more lovely, and the modern amenities and luxurious decorations ensure a five-star stay.
Dine al fresco while the sunlight sparkles across the waves...this is nature's daily show at Villa Capricorno!
Your Garden on the Green Island
Wide green spaces, carefully furnished with all guests need to settle in and relax...this is the lush garden surrounding the villa.
From the Villa Capricorno garden, follow the private path down to Ischia's famed Spiaggia degli Inglesi beach.
Between daytrips and relaxing in the garden, make sure to leave a bit of time for a dip in the large panoramic saltwater pool or a long soak in the thermal infinity pool...
An Oasis for Mind and Body
If one of the reasons you are visiting Ischia is to take the waters at the island's thermal springs and recharge at the sweeping spas, then you're certain to love Villa Capricorno's wellness area. In addition to the outdoor thermal pool, there is a fitness room inside, completely equipped with all guests need for keeping in shape, and nearby is a thermal jetted pool for a post-workout soak.
Villa Capricorno amenities
Outdoor facilities
Swimming pool
Garden
Beach
Rooms
Rooms for families
Free Wi-fi
Air Conditioning
Satellite TV
Wellness
Gym
Sauna / Turkish bath
Thermal baths
Events
Various