Hotel Lorelei Londres
(5 Star Hotels) Sorrento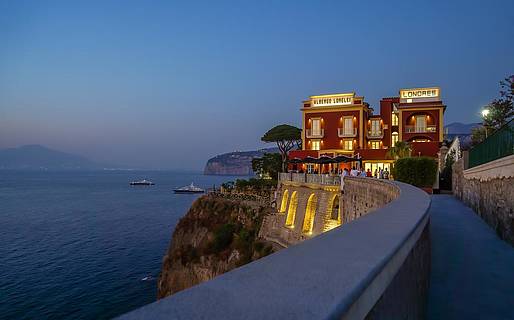 A captivating historic hotel in Sorrento
Three reasons why you'll love it here

A historic hotel with a century of character
A central location in Sorrento
Views over the Bay of Sorrento
The Hotel Lorelei et Londres in Sorrento has a history that stretches back 100 years, offering a captivating character that charms guests from the moment they arrive.
Centuries of History
The hotel sits on the site of ancient Roman ruins, and fragments of a villa and aqueduct dating from the Imperial age are still visible, carefully preserved and displayed inside the property. Perched above Sorrento with a sweeping view over the bay, Hotel Lorelei et Londres was once a vibrant gathering place for traveling artists, intellectuals, and writers making a turn through Sorrento as part of the Grand Tour. This delightfully romantic oasis perfectly blends historic allure with modern hospitality and service for contemporary guests who want to feel the pull of the past.
Panoramic Restaurant
Guests at Hotel Lorelei Londres in Sorrento can enjoy fantastic views while sampling the updated classics served at Ristorante Lorelei, with a menu that highlights historic dishes from the Sorrentine Peninsula. Select from a wine list including French and Italian labels (with a focus on regional wines) and savor breathtaking views over the Bay of Sorrento from the restaurant's scenic terrace.
Ristorante Lorelei offers vegan and gluten-free dishes for those following specific diets. Just let staff know your needs (including allergies and other dietary restrictions) when you book your table!
Five-Star Hospitality
Guest rooms at Lorelei Londres are furnished with elegance and include all the comforts guests need for an unforgettably luxurious and relaxing stay, surrounded by the beauty of the coastline. Choose between a number of room categories, some of which offer sea views and massage tubs. Those arriving by car can use the private parking lot, and 24-hour reception and free wi-fi are additional perks. For a truly indulgent stay, take advantage of room service to dine in private.
The location of Lorelei Londres overlooking the bay and town of Sorrento is the jewel in the hotel's crown, and the central Corso Italia thoroughfare is just a short walk away.
Hotel Lorelei Londres amenities
Rooms
Rooms for families
Internet connection
Free Wi-fi
Air Conditioning
Room service
Minibar
Safety deposit box
Kettle
TV
Satellite TV
Hair dryer
Bathroom with bathtub
Bathroom with hydromassage bath
Room with private pool
Room with private terrace
Food and drink
Restaurant
Cocktail bar
Snack bar
Various