Cooking Mamma
A taste of the Amalfi Coast, with Ravello's Mamma Agata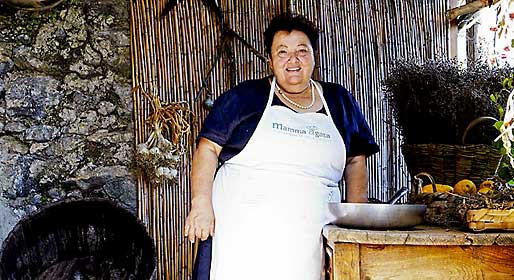 A 250 year old house and a spectacularly panoramic terrace in the town of Ravello, one of the pearls of the Amalfi Coast, provides the setting for this unique experience: a Mediterranean cooking lesson with Mamma Agata.
A lesson with the cook who seduced the stars
Agata's love affair with the pots and pans began at the tender age of thirteen when she went to work for a wealthy American lady who, struck by the young girl's culinary talent, put her in charge of preparing banquets for the likes of Fred Astaire, Anita Eckberg, Jacqueline Kennedy, Elisabeth Taylor and a stream of other celebrities including Humphrey Bogart, who gave her the nick name Baby Agata.
From the kitchen garden to the plate: zerokm cuisine on the Amalfi Coast
Today Mamma Agata shares her culinary expertise with others wishing to learn about the traditional cuisine of the Amalfi Coast aided by her daughter, Chiara, who welcomes students when they arrive and her husband, Salvatore, who accompanies them to the organic kitchen garden situated beneath the terrace, where the seasonal fruit and vegetables used in his wife's delicious dishes are grown.
The course commences at 10.30 with a tasting of Agata's Dolce al Limone, the lemon cake which Humphrey Bogart adored

During the 3 hour cooking lesson, Agata shows her pupils how to prepare appetizers, bread, pasta, vegetable side dishes, second courses and delectable desserts, including her legendary lemon cake.
First you learn, then you eat, and then you start all over again - at home!
All the delicacies prepared during the lessons are then served to participants in a convivial banquet, accompanied by the excellent wines of the Amalfi Coast and, of course, a glass of Limoncello.
At the end of the experience, together with the memories of a day spent immersed in the flavors and aromas of the Mediterranean, students take home a cookbook filled with Mamma Agata's delicious recipes.
Mamma Agata
Piazza S. Cosma, 9
84010 Ravello (Salerno)
Tel: +39 089 858432
www.mammaagata.com
Tips for getting to the Amalfi Coast.