Le Marche - A Secret Haven for Lovers of Italian Food
A part of Italy that will truly satisfy your search for authentic Italian food experiences.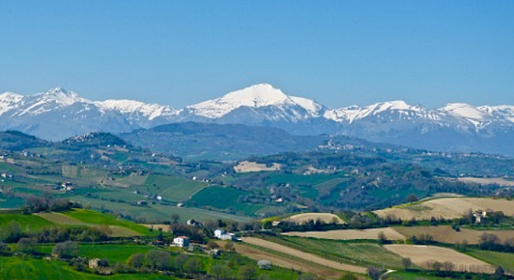 Think Italy and food and the regions that come to mind are probably Tuscany, Umbria, Sicily, and Emilio Romagna. Le Marche may be a lesser known area, but it has much to offer those who love the gastronomy of Italy. Often described as all of Italy in one region, the visitor can experience an amazing variety of food experiences - dishes inspired by mountains, fertile valleys, and the warm Adriatic sea.
The region may be undiscovered, but visitors looking for authentic Italy, away from the touristy areas, should make it a must-see destination. Southern Le Marche, compromising of the mini-regions of Fermo and Ascoli Piceno really is the "Real Italy".
On the same day you can lunch near the mythical Sybillline mountain range on pasta with truffles or wild boar sugo, then after exploring the scenic countryside between mountain and sea, dine in the evening at the coast on the best fried or grilled fish you've ever tasted!
Geographically remote with the Apennine mountains forming the western border and driving from Rome or Florence being hampered by mountain terrain, has kept the area rather secret and very special. The restaurants don't cater particularly for foreigners. Sometimes there is no menu but be
brave and go with the dish of the day and you won't be disappointed!
Le Marche is also a bridge between the food of the North and the cuisine of the South and takes something from its neighbours and all of its differing landscapes.
What kind of food can you expect to come across?
The more mountainous west provides truffle and mushroom foraging opportunities. The extra special white truffle is a delicacy worth tasting, even if it's in the addition of a few precious shavings on top of your pasta dish. This is the most expensive type of truffle in the world!
Wild boar is hunted and braised with wild juniper berries to create a rich, satisfying main course.
Head towards the coast and you will encounter breathtaking scenery. Winding roads from one medieval hill top village to another provide ample opportunities for vistas of rolling hills of olive trees and vines, fields of sunflowers or grain. All framed by the snow capped Apennine mountains.
These inland rural landscapes produce peppery olive oil and fantastic but little known wines, such as Rosso Piceno or the crisp, white Offida Pecorino. Wineries will let you sample their wines and will sell directly to you. Also ask for locally made vino cotto and the aromatic after dinner digestive Mistra, made with locally grown aniseed. The most well known being Anisette Melletti, produced in the small but beautifully preserved ancient city of Ascoli Piceno, in the South of the region.
As you reach the coast you'll find strings of family-run trattorias directly on the beach. They specialise in locally caught fresh seafood. Pasta al scoglio is a delicious seafood pasta dish with clams, mussels and a hint of chilli. Coastal towns like San Benedetto are also famous for a fish soup called Brodetto.
Foodie Highlights
Olive Ascolane - stuffed olives, breaded and fried. A wonderful anti pasti snack.
Vincigrassi - a lasagne dish but with many sheets of thin pasta, layered with finely minced veal, pork and chicken
Porchetta - streetfood found at every market. A herby, whole roasted pig, sliced and put into a crusty roll.
Platters of fried and grilled fresh seafood
Formaggio di Fossa - cave aged cheeses - earthy, sharp and delicious.
Pecorino Cheese - a tangy sheep's cheese
Ciausculo - a soft spreadable salami
The art of cooking is in the blood of the Marchigiani people and passed from one generation to another. Seasonal ingredients are paramount, and although deeply rooted in the cucina povera tradition or frugal cooking methods, the use of herbs like wild fennel, rosemary and sage bring their
dishes to life.
All washed down with a glass of local vino of course!
Our Insider is
Could you be our next Insider? Share your love of Italy by contributing to ItalyTraveller! See how!