Castello di Monterado
(Historical Residences) Monterado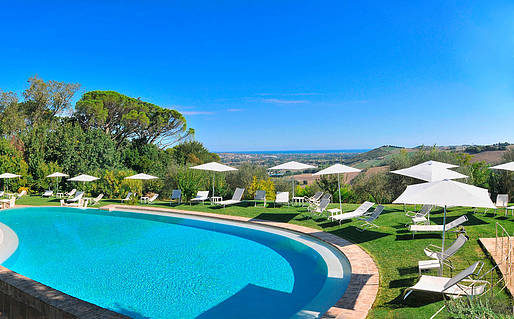 Who's the King of the castle?
Three reasons why you'll love it here

A holiday in a castle with Italian gardens and pool
Nights to remember in a sumptuous suite
Exploring the gorgeous countryside of Marche
Built on the site of an ancient parish church dating back to the year 1000, Castello di Monterado was constructed in the early 18th century, for the College of the Jesuit Fathers, according to the designs of one of Italy's most illustrious architects, Luigi Vanvitelli.
Noble love nest
The Castello di Monterado owes much of its opulence not to the Jesuits but to Prince Maximilian of Beauharnais, nephew of Napoleon the 1st, who inherited the property in 1824 and chose to spend his honeymoon with his beloved new wife, Maria Nikolaievna, daughter of the Czar Nicola of Russia, here.
It was Maximilian who commissioned the frescoes by the Marche-born artist, Corrado Corradi, which embellish the rooms on the noble floor

Fairytales Made in Marche
For those who have always dreamed of sleeping in a castle, the Castello di Monterado offers luxurious guest accommodation. The suites are located on the upper floor, known as the "piano nobile", and are furnished with period furniture and decorated with frescoes inspired by scenes from ancient mythology. Superior Rooms boast a beautiful view over the castle grounds and valley below; on clear days, you can make out the mountain peaks on the horizon.
In the recently restored building situated directly opposite the castle seven elegant one and two bedroom apartments have been created, complete with living-cum-dining room and fully equipped kitchen, ideal for those wishing to self cater.
Entertainment & Events
The castle's elegant halls include the "Four Seasons Room", named after the cycle of frescoes depicting the various seasons of the year; the "Music Room", in which a number of antique musical instruments can be found; the "Billiard Room", and the splendid library where guests might easily be found browsing through the castle's book collection or absorbed in a game of chess.
With its lavish halls, Castello di Monterado is the ideal location for high profile conferences and business meetings, and the perfect setting for exclusive banquets, wedding receptions, and elite social events.
Accessed via the courtyard, the castle's small chapel provides the a wonderfully romantic venue for intimate marriage services and vow renewals

Pool & Park
Castello di Monterado's panoramic hilltop location, between the Italian Apennines and the Adriatic sea, adds yet further to the historic residence's appeal.
The seven hectare park encircling the castle features a wood of pine trees, oak trees planted in 1846 by Count Cerasi, a swimming pool, and an exquisite Italian garden brimming with roses and magnificent Libyan cedar trees.
Castello di Monterado
Piazza Roma, 18

-

60012

Monterado

(Ancona)
Tel.

+39 071 7958395
Mob.

+39 392 3179412
www.castellodimonterado.it
Castello di Monterado amenities
Outdoor facilities
Swimming pool
Garden
Park
Rooms
Rooms for families
Free Wi-fi
Air Conditioning
Minibar
Safety deposit box
Kettle
TV
Hair dryer
Bathroom with bathtub
Bathroom with hydromassage bath
Room with private terrace
Food and drink
Events
Meetings
Conferences
Weddings
Church for weddings
Various