Hotels to remember: Fano
Fano: introduction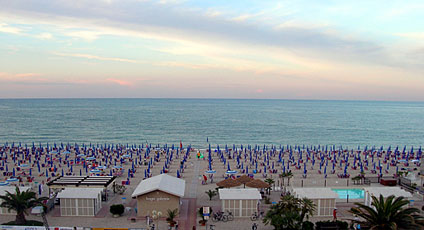 Of Roman origins, once called "Fanum Fortunae", Fano is now a much sought after seaside resort with a beautiful sand and pebble beach which stretches out over many kilometers. In addition to the fishing port, a part of the harbor is also dedicated to leisure boats.
There are numerous monuments to visit, many of which date back to the Roman era: Palazzo della Ragione, the Fountain della Fortuna, the Borgia Cybo Arch, the Loggia del Sansovino, the Church of St Domenico, Fano Cathedral, the Logge of St. Michele, the Arch of Augusto, the Roman Walls, the Basilica of Vitruvio, the Bastion of St. Gallo, the Church of St Pietro in Valle, the Malatestiane Arches and the Civic Museum with Art Gallery.
Fano is known for its full calendar of cultural events, and especially for the Fano Carnival. Other important occasions include musical events such as InCanto and Le Voci in lirica, the Fano Film Festival, Fano Theatre, il Violino e la Selce, the International Polyphonic Meeting, the Antiques fair and "Fano Jazz by the Sea".
Fano: suggestions from the hotels
Adriana Ligi
(Socio e gestore)
Farmhouse Holidays

Orlando Rodano
(Proprietario)
Historical Residences

Monterado is a quiet village, located in the typical hills of Marche region, far 12 km from the city of Senigallia. It's an excellent starting point to the beach or to the hill, to beautiful places like Urbino, Corinaldo and Monte Conero. (Castello di Monterado) →
Anna Passi
(Proprietario)
Historical Residences

Le Marche is one of the Italy's best kept secrets, with miles of sandy beaches, gentle sloping hills, rugged mountain peaks and cultural and artistic centres. Beside delighting the eye offers also a fine regional cuisine and superb wines! (Relais Villa Giulia) →
More suggestions and useful addresses
Fano: places to see in the area