Hotels to remember: Ancona
Ancona: introduction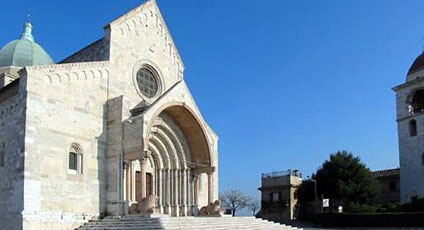 In Greek Ancona means "elbow", a name which reflects its geographical position similar to an elbow between Mount Conerò and the coast, crossing the hills of Cardato, Astagno and Gausco. Ancona can be divided into the historic center on the Guasco hillside, and the modern part of the town in the lower lying valley. It has one of the most important ports of the Adriatic sea and almost six kilometers of beaches.
To visit: the Church of St Domenico, the Mole Vanvitelliana, Palazzo del Governo, the Church of St. Agostino, Palazzo degli Anziani, Palazzo Bosdari which houses the Art Museum Francesco Podesti, the Church of Francesco delle Scale, Palazzo Ferretti, the Cathedral of San Ciriaco, the Triumphal Arch of Traiano, the Fountain Fontana of the Tredici Cannelle or Calami, the Roman Amphitheatre, the National Archeological Museum of the Marche.
Events of international importance: the Adriatic Nautical Exhibition and the International Fish Show. Featuring among the many local delicacies of Ancona one finds vincigrassi, brodetto, beccute, and wines such as Rosso Conero, Lacrima di Morro and Verdicchio dei Castelli di Jesi.
Ancona: suggestions from the hotels
Orlando Rodano
(Proprietario)
Historical Residences

Monterado is a quiet village, located in the typical hills of Marche region, far 12 km from the city of Senigallia. It's an excellent starting point to the beach or to the hill, to beautiful places like Urbino, Corinaldo and Monte Conero. (Castello di Monterado) →
Ancona: gourmet addresses
More suggestions and useful addresses
Ancona: places to see in the area