Hotels to remember: San Benedetto del Tronto
San Benedetto del Tronto: introduction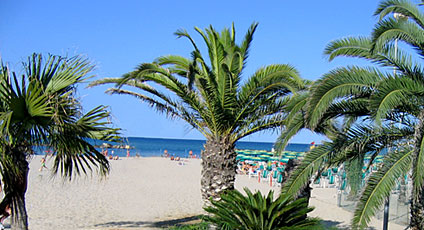 A long beach of fine sand gently sloping down towards the Adriatic sea. A beachfront adorned with the magnificent palm trees which have led to San Benedetto del Tronto being given the name "Riviera delle Palme".
Particularly popular in the summer season, this seaside town situated in the province of Ascoli Piceno, in Italy's Marche region, is divided in two parts: the old historic center, positioned on the hillside, and the new "marina" area, built directly on the coast.
In the past, San Benedetto del Tronto was an important town, its fame linked primarily to the saint and martyr, San Benedetto. According to the tradition, the saint was once a Roman soldier, living in the times of the Emperor Diocletian. Having chosen to openly embrace Christianity, the soldier was persecuted until his martyrdom. In medieval times, to commemorate this tremendous act of faith, the Church of San Benedetto Martire was built. The church was considerably altered during the 18th and 19th centuries.
Another of this fishing town's important buildings is the Torre Gualtiera, also known as the "Torrione". This impressive hexagonal tower, built in the 16th century, dominates San Benedetto del Tronto. Another tower of considerable historic significance is the Torre Guelfa, edifice which once marked the boundary between the Kingdom of the Two Sicilies and the Pontifical State.
San Benedetto del Tronto: suggestions from the hotels
Maria Elena Cicchi
(Proprietaria)
Farmhouse Holidays
Just a relaxing vacation or an action-packed holiday? Choose to have a fascinating insight to life in Marche region! (Villa Cicchi) →
Madeline Jones
(Owner)
Small Boutique Hotels

Montelparo, in the foothills of the Sibillini Mountains, is not only on the doorstep to three national parks, but is also the perfect gateway to the many nearby historic towns including Ascoli Piceno and Fermo, blue flag beaches and more. (Hotel Leone) →
San Benedetto del Tronto: places to see in the area