Hotels to remember: Civitanova Marche
Civitanova Marche: introduction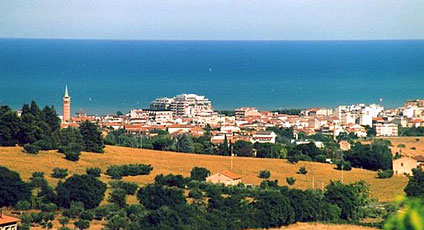 Sited a few kilometers away from Macerata, Civitanova Marche is an expanding and flourishing business base for shoe manufacturers, fishing enterprises, and the tourist industry. Its sand and pebble beach draws a large number of visitors to the town.
In the old part of Civitanova Alta, one can enjoy visiting the Medieval center with its 15th century walls and Modern Art Gallery. Any tourist itinerary should include: The St Marone Sanctuary which is built on the site where St Piceno was martyred. Close to Civitanova Marche, at Montecosaro, one finds the Abbey of St Maria with Frescos by Andrea da Bologna.
Local events include Marche a Tavola and Millimarche, dedicated to military accoutrements.
Civitanova Marche: suggestions from the hotels
Chiara Lucangeli
(proprietario)
Farmhouse Holidays

Try to imagine a garden without boundaries,lying in the shade of mulberry trees,surrounded by vineyards,the peace and quiet of the countryside,waiting for the sunset bring with them the magic of summer nights made of cricke and fireflies. (Fattoria Forano) →
Antonella e Franco
(Owners)
Countryside Residences

Discover the peaceful green countryside and magical medieval villages of Marche. Treat yourself to sunny days by the sea and romantic nights in the hills. (Santomaro Country Loft) →
Antonella e Franco
(Proprietari)
B&B and Homes

Discover the seaside town of Civitanova Marche, both ancient and modern at the same time. The perfect "slow" destination, for those who just want to relax, it's close to fabulous designer fashion outlets and marvelous medieval villages too! (Santomaro Sea Loft) →
Civitanova Marche: gourmet addresses
Civitanova Marche: places to see in the area