Hotels to remember: Jesi
Jesi: introduction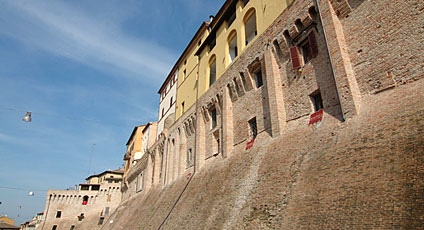 Jesi is of ancient origin, dating back to Pre-Roman times. Through the centuries, the city has been conquered by a number of invaders: the Etruscans, Galli Senoni, Romans, Ghibellines (who named the town Città Regia), Visigoths, Longbards and the Ostrogoths.
Traces of Jesi's dramatic history can be found in buildings such as the Church of St. Maria delle Grazie, the Church of St Nicolò, the Church of St. Marco, the Cathedral of Jesi St Settimio, Palazzo Rococò Pianetti Tesei, the Pergolesi Theatre, Palazzo Ricci, Palazzo della Signoria, the Fontana del Grilli Obelisk, the city walls, the Civic Art Museum in Palazzo Pianetti Tesei, the Civic Archeological Museum in Palazzo della Signoria.
Jesi's fame is also linked to its wine making traditions, and in particular to the Verdicchio dei Castelli di Jesi. The local gastronomic traditions feature fresh pasta, potato gnocchi with duck sauce, rabbit in potacchio, tripe alla canapina, and fish soup.
Jesi: suggestions from the hotels
Chiara Lucangeli
(proprietario)
Farmhouse Holidays

Try to imagine a garden without boundaries,lying in the shade of mulberry trees,surrounded by vineyards,the peace and quiet of the countryside,waiting for the sunset bring with them the magic of summer nights made of cricke and fireflies. (Fattoria Forano) →
noemi pettorino
(proprietario)
B&B and Homes

This is a place where you can switch off completely, for those who are looking for elegance, simplicity and isolation. Here you can still feel the pulse of rural life and the breath of the earth. (Il Sambuco) →
Adriana Ligi
(Socio e gestore)
Farmhouse Holidays

More suggestions and useful addresses
Jesi: places to see in the area