Capri Wine Hotel
(3 Star Hotels) Capri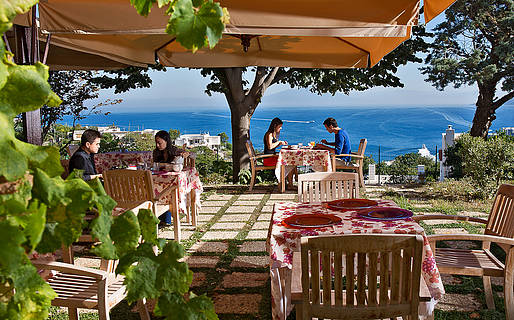 Boutique and bottle!
Three reasons why you'll love it here

A boutique hotel inspired by the world of wine
A vineyard within minutes of Capri's Piazzetta
Rooms with a view of the Bay of Naples
The location, within steps of the Piazzetta, is reason enough to stay at Capri Wine Hotel.
Add the super-cool interiors, the fabulous views of the sea, the gorgeous garden overlooking the Bay of Naples and the cellar - stocked with the best selection of wine on the whole of Capri, and it's easy to see why this boutique hotel was receiving mountains of booking requests long before it first opened its doors to guests, in Spring 2013!
Bottoms up!
Reflecting the fact that the hotel has been created in what were once the cellars and storerooms of the Antica Vinicola Coppola winery, rooms feature many references to the world of wine.
In Capri Wine Hotel's bedrooms, original barrel vaulted ceilings combine with the latest in technology and Italian interior design to create an inebriating mix of traditional island charm and contemporary comfort
Each and every room enjoys an unforgettable view of the sea.
Toast the day
On warm summer mornings, a delicious breakfast of torta caprese, coffee and cappuccino is served in the hotel's wonderfully peaceful, sea view garden.
Fancy a fresh fruit juice? Help yourself to a few of the lemons growing on the trees in the garden and get the waiter to squeeze them for you!
Class in a glass
As you'd expect in a hotel created in the cellars of what was once Capri's first winery, the wine list is one of the most impressive you'll see on the island.
The hotel's intimate wine bar provides the perfect venue for a professional wine tasting, an elegant aperitif or leisurely after-dinner drinks
Capri Wine Hotel amenities
Outdoor facilities
Garden
Children's play area
Rooms
Rooms for families
Rooms for the disabled
Internet connection
Free Wi-fi
Air Conditioning
Minibar
Safety deposit box
Satellite TV
Hair dryer
Food and drink
Cocktail bar
Snack bar
Own wine production
Tastings of typical products
Various
Capri Wine Hotel described by those who've stayed there