Capri Tiberio Palace
(5 Star Hotels) Capri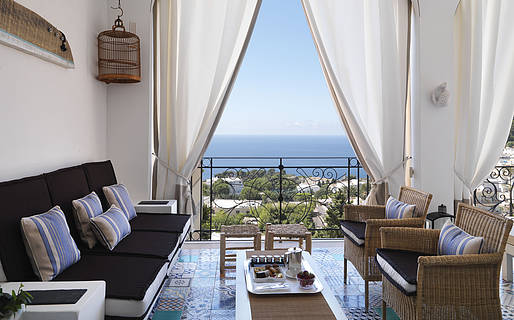 At home with the Emperor Tiberius
Three reasons why you'll love it here

Mediterranean tradition and elegance steps from Capri's Piazzetta
In-and-out pool and spa treatments
The unforgettably gorgeous Bellevue Suite with private swimming pool
Capri Tiberio Palace occupies a fabulous position at the start of the scenic pathway leading to Villa Jovis, in the very heart of Capri.
Back in business
When the rich and famous first started patronizing the island, at the beginning of the 20th century, the Tiberio Hotel, as the hotel was then known, was one of their preferred establishments.
The hotel reopened, a hundred years on, after extensive renovation work (which included the careful integration of the latest facilities and technology) as the Capri Tiberio Palace.
Arrive in style: let staff know when you're due to arrive on Capri and you'll find a hotel representative waiting to greet you at the port and assist you with your luggage (porterage charge applies)
Irresistible island luxury
Capri Tiberio Palace's ''beautifully decorated rooms and suites are furnished with the finest Italian marble and majolica''', sumptuous silks and polished parquet.
Each and every room or suite has its own private terrace or balcony with views of the sea or of the town.
Looking for something really special? Book the Bellevue Suite with private swimming pool and get ready to experience the ultimate in Mediterranean luxury.
Tiberio and Jacky: where to eat, drink and be seen doing it!
Beautifully presented Mediterranean cuisine, prepared using the freshest locally sourced ingredients, awaits guests dining in the hotel's elegant "Terrazza Tiberio" restaurant.
Terrazza Tiberio restaurant also offers an "à la carte" menu of kosher dishes, certified by the Orthodox Union. Each dish is prepared according to the prescriptions of the Jewish religion and guaranteed by strict rabbinical control, to ensure freshness and quality in an innovative bond between Mediterranean and Jewish cooking traditions
In the evenings, accompanied by the sound of soft piano music, guests can unwind and enjoy an aperitif or after-dinner drink in the stylish "Jacky bar.
So beautiful, so natural!
In Capri Tiberio Palace's Spa Tiberio, clients can indulge in superb face and body treatments 100% natural and experience the therapeutic powers of water and steam, in the Frigidarium, Tepidarium, Calidaium, Laconicum and Sudatio.
The"In &Out" pool, situated on the first floor of the hotel, is the perfect place where to relax and bathe in the warm waters
Business meetings and corporate events can all be catered for, with the most up to date audiovisual and communication facilities, in the Capri Tiberio Palace's meeting center.
Capri Tiberio Palace amenities
Outdoor facilities
Rooms
Air Conditioning
Room service
Minibar
Safety deposit box
Satellite TV
Hair dryer
Room with private terrace
Wellness
Hydromassage
Indoor pool
Gym
Wellness treatments
Massages
Food and drink
Restaurant
Cocktail bar
Snack bar
Events
Meetings
Conferences
Weddings
Various
Reception 24h
Laundry
Baby sitter
Capri Tiberio Palace described by those who've stayed there