Parco Giardino Sigurtà
An earthly paradise just moments away from Lake Garda.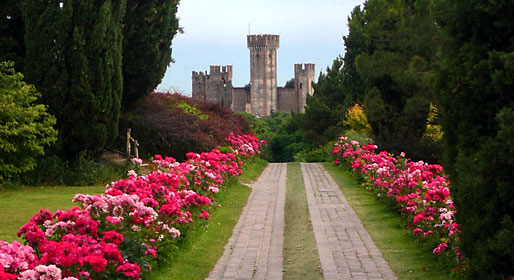 Just a few kilometers from Verona, on the Moreniche hills overlooking Lake Garda, lies the Parco Giardino Sigurtà, considered to be one of the most beautiful gardens in the world.
Natural attractions
The five great flowering seasons (Tulips, Irises, Roses, Lilies and Asters), the Great Oak, the 18 flowering ornamental lakes, the Hermitage, the Great Lawn and the Medicinal Herb Garden are just some of the attractions to be found within this 600.000 sqm natural oasis.
Parco Giardino Sigurtà
The second most-visited tulip park, and winner of the World Tulip Award 2019
Get your tickets now!

The history of the garden
The park originates from the 17th century garden of Villa Maffei, purchased in 1941 by Carlo Sigurtà who, by exploiting the century old right to draw water from the Mincio river, succeeded in transforming the arid hillside in lush green garden.
In the month of April, visitors flock to admire the magnificent display offered by the hundreds of thousands of tulips in flower

Members of the public are now able to visit the Park's farm, recently transformed in educational center for children and families.
The park can be toured on foot, by bike, or aboard the panoramic train which transports passengers along the 7km long "Itinerario degli Incanti" route.
Parco Giardino Sigurtà
Valeggio sul Mincio (Verona)
Tel. + 39 045 6371033
www.sigurta.it