Hotels to remember: Grotta di Matermania
Grotta di Matermania: introduction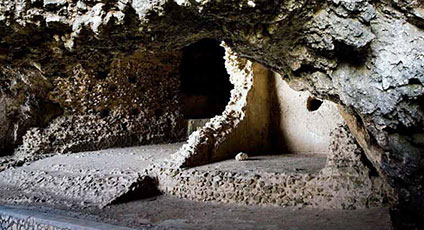 To the south-west side of the island, in a coastal landscape characterized by lush vegetation and rocky cliffs, one finds the Grotta di Matermania, fascinating natural cavity the name of which recalls the pagan divinity Mater Magna to whom the cave was most probably dedicated.
The Grotta di Matermania is formed by a large natural arch transformed in luxurious nympheaum, used to collect the waters which filtered through the rock. The remains found in this cave have led experts to believe that, rather than being used as a site of cult worship, it was much more likely to have been used as a nymphaeum.
In fact, during the explorations, numerous traces of decorations similar to those found in the Hellenistic nymphaeums of the luxurious houses and Roman villas were found on the walls. Entrance is free of charge. The cave is situated towards the end of the "Pizzolungo" coastal walk which connects Punta Tragara with the Natural Arch, the famous rock formation close to the Grotta di Matermania.
Grotta di Matermania: suggestions from the hotels
Nicolino Morgano
(General Manager)
5 Star Hotels
My father, Mario Morgano, conceived this hotel as small luxury hotel that could preserve a family-like atmosphere. The same philosophy we have been following till now. (La Scalinatella) →
Grotta di Matermania: places to see in the area