Hotels to remember: Villa Damecuta
Villa Damecuta: introduction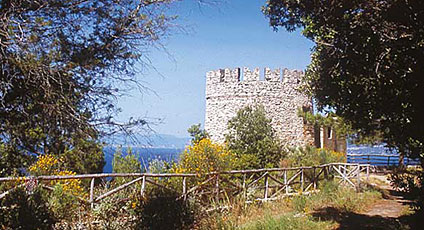 Visitors can reach Villa Damecuta by bus or choose to go by foot, following a pleasant route from the center of Anacapri along via Pagliaro, and via Tuoro. This Roman residence was one of the twelve palaces believed to have been built on the island according to the wishes of the Emperor Tiberius.
The remains of Villa Damecuta were uncovered in 1937 thanks to the work of the archaeologist Amadeo Maiuri, an iniative of the Swedish physician Axel Munthe. For Maiuri the villa's name derives from the Greek "Damo, Kyra or Kidas, whilst for many writers and historians the name is, rather, a vernacular transformation from the Latin "Domus Augustus".
In comparison with other imperial villas, there is very little information available concerning the construction of Damecuta; it is believed that the building might have been the summer residence of Tiberius, due to its exposition to the sea and the favourable climate of the site, although it might well have been used as the abode of Emperor Augustus during his time spent on Capri.
Villa Damecuta: suggestions from the hotels
Antonietta
(Owner)
Small Boutique Hotels
No ordinary hotel, we have created Orsa Maggiore to look and feel like a private home, in which guests can relax and enjoy the warmest of hospitality. (Hotel Orsa Maggiore) →
Villa Damecuta: places to see in the area