Hotels to remember: Villa Jovis
Villa Jovis: introduction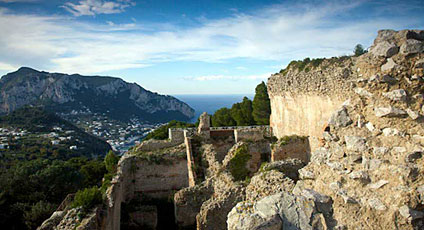 On the top of Mount Tiberio, over 300 meters above sea level, Villa Jovis dominates Capri and offers spectacular views over the gulf of Naples and Salerno. One of the most imposing residences built by the Emperor Tiberius, the complex was home to the emperor for many years, who elected it as his chosen refuge away from the chaotic city of Rome.
The main nucleus of the site was comprised of cisterns which are still clearly visible today, in relation to which four principal zones were constructed: the royal apartments and the domus of Tiberius, the quarters of the court where official functions would have been held, the thermal baths, and the servants quarters.
To the north of the building there is a sheer drop into the sea below which is named "Tiberius's leap", from where, legend would have it, that victims of the emperor were hurled. An important feature of the site of Villa Jovis was the lighthouse, used to communicate with Sorrento and Capo Miseno where the imperial fleet was docked. Today, on the highest terrace of Villa Jovis there is a little chapel with statue of Saint Maria del Soccorso.
Villa Jovis: places to see in the area