Hotels to remember: Faraglioni
Faraglioni: introduction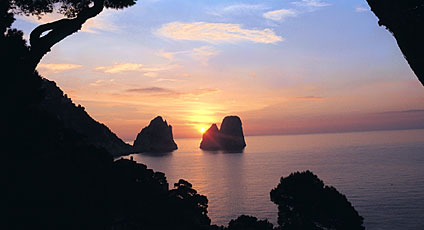 In addition to becoming a symbol of the island, the Faraglioni rocks undoubtedly represent one of the most enchanting places on Capri, a natural monument created by three rock formations which were once a single extension of the Tragara promontory.
The Faraglioni are made up of the Faraglione Stella, which is still attached to the island, the Faraglione di Mezzo, with a huge natural arch which can be passed through by boat, and the largest Faraglione, Lo Scopolo, which is home to numerous life forms, both vegetable and animal, including the blue lizard, endemic species which, due to the very particular and difficult living conditions, has assumed its famous blue coloring.
Travelling southwards, immediately after Lo Scopolo, the seabed drops dramatically by 500 meters to settle at over 3500 meters below sea level. The area is of particular interest to divers who can observe numerous life forms, such as the yellow carpet formed by the colony of Celenterati which can be found at the base of the arch of the Faraglione di Mezzo.
Faraglioni: suggestions from the hotels
Nicolino Morgano
(General Manager)
5 Star Hotels

My father, Mario Morgano, conceived this hotel as small luxury hotel that could preserve a family-like atmosphere. The same philosophy we have been following till now. (La Scalinatella) →
More suggestions and useful addresses
Faraglioni: places to see in the area