Hotels to remember: Center of Anacapri
Center of Anacapri: introduction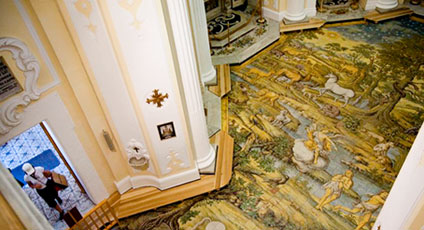 Sauntering through Anacapri, discovering the hidden treasures of the island's second town.
The historic center of Anacapri is traversed by a long and winding pedestrian road lined with artisans' studios, bars, restaurants, and shops selling typical products. First stop: the Museum of Casa Rossa, a Pompeian red historic house characterized by an eclectic variety of architectural styles, to see "The painted Island: a pictorial journey in the Capri and Anacapri of the 19th and 20th centuries and the ancient Roman statues found in the Grotta Azzurra.
Second stop: the Church of San Michele, in Piazza San Nicola. The church is famous for its majolica tiled floor by the 18th century Neapolitan ceramic artist, Leonardo Chiaiese, which depicts the "Expulsion of Adam and Eve from the Garden of Eden. The neighboring Church of Santa Sofia, built in baroque style, faces on to a pretty little square paved in red bricks and bordered by ceramic benches decorated by the Anacapri-born artist, Sergio Rubino.
Center of Anacapri: suggestions from the hotels
Francesco Signorini
(General Manager & Owner)
5 Star Hotels

After years working as a manager at an international company, he decided to take over his family business: a historic luxury hotel set on the clifftops of Anacapri. (Hotel Caesar Augustus) →
Antonietta
(Owner)
Small Boutique Hotels
No ordinary hotel, we have created Orsa Maggiore to look and feel like a private home, in which guests can relax and enjoy the warmest of hospitality. (Hotel Orsa Maggiore) →
Center of Anacapri: places to see in the area