Walking with Dürer
Trekking in the tracks of Albrecht, in Val di Cembra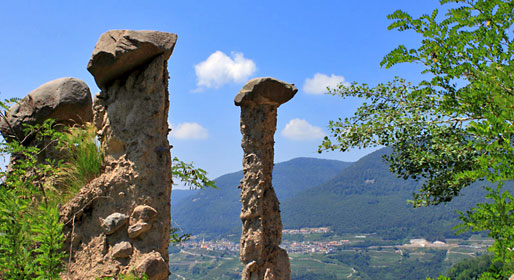 In 1494, Albrecht Dürer, a painter, engraver and a key figure in the German Renaissance, traveled across northern Italy to reach Venice.
The painter pilgrim
Dürer made much of his journey on foot, entering Italy via the Brennero Pass with the intention of traversing the Val d'Adige on his way south.
When he arrived at the Laghetti di Egna, the flooded river forced him to take an alternative route.
He took the pathway which had been used since Ancient Roman times and which was known during the middle ages, as the Semita Karoli.
Following this path, he came first to Lago Santo and then to Segonzano in Val di Cembra, before continuing on his way to Venice.
A journey in pictures
Dürer recorded his journey in Alto Adige by way of 12 splendid watercolors, 5 of which depict the Val di Cembra, including the Segonzano Castle, where the artist stayed.
The footpath, now referred to as the Dürerweg or Sentiero del Dürer, has been recently restored and tourist signs have been placed at intervals all the way along the 40kms route

Snaking through an enchanting landscape of valleys, woods and Alpine villages, the path is divided into 8 sections of varying difficulty, thus allowing visitors to choose how much of the walk they wish to complete.
The Klösterie, the Sauch Pass and the Church of the Alpini
The Dürerweg commences from the Klösterle of San Floriano at Laghetti di Egna in the province of Bolzano.
The Klösterie is a well-preserved Romanesque building which once served as hospice for pilgrims. Walkers should be sure to make time to visit the magnificent historic center of Egna and the Ancient Roman ruins of the Domus Mansia.
From Egna, the pathway continues towards the Sauch Pass and the refuge of the same name. From here, the route heads into the woods, and passes a number of chalets continuing all the way to Lago Santo, with its pretty little Church of the Alpini di Cembra.
Cembra, Cantilaga Bridge and the castle and pyramids of Segonzano
The final stretch of the walk goes through Faver and Cembra, towns which are surrounded by lush meadows and vine planted terraces.
From Cembra, the route travels along the old carriageway as far as the town of Segonzano, and passes the Cantilaga Bridge, which the artist painted in a number of his works.
In Segonzano, walkers will want to visit the ruins of the town's castle and the legendary Pyramids, stunning pinnacles of rock created by thousands of years of water erosion

Walking with Dürer
www.durerweg.it