Contemporary art in Varese
In Villa Menafoglio, Count Panza's Collection of Art.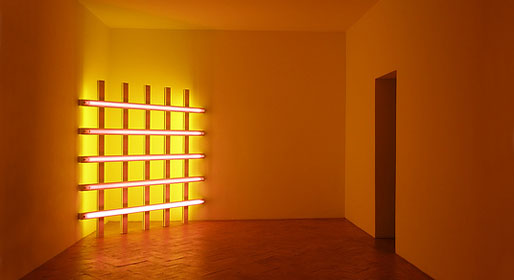 Built in the first half of the 18th century and enlarged in the neoclassical period, at first glance Villa Menafoglio Litta Panza, on the Biumo Hill, just outside Varese, is of no particular note, other than for an attractive formal garden.
It is difficult then to imagine that beyond the anonymous entrance of the villa lies a stunning museum of contemporary art, room after room of which are home to the works collected by Giuseppe Panza, including some of the world's most important pieces of American Environmental Art.
Innovative installations
The first floor of the Rustics gallery contains works by artists such as Robert Irwin, James Turrel and Dan Flavin, who designed their installations from 1973 and 1976 whilst staying in the villa.
Count Panza gave artists carte blanche to create whatever they wanted in these spaces

Flavin used electric light and color to transform the spaces and provoke new sensory perceptions and emotive responses. His neon colors eliminate original shadow and transform the rooms into three-dimensional works of art in which the visitor is invited to lose himself.
In a number of rooms the architecture and furnishings of the 18th century combine, in a fortuitous way, with the monochrome paintings of Phil Sims. Others are dedicated to Ettore Spalletti (the only Italian artist present in the villa's collection), whose geometric works are covered by a layer of plaster and raw pigment which transforms them into an apparently homogeneous mass.
American art
In the 1950's, after completing his degree in law, Panza went to America where he fell in love with the new artistic expressions, at the time unknown to the general public, such as minimalist, conceptual and environmental art.
With works collected and installations realized on-site by the artists, Panza's villa in Varese was rapidly transformed into a full-scale gallery

Philanthropic Panza
In 1996 Count Panza donated the villa, the Rustics, the garden and part of his collection to the FAI, the Italian Environmental Trust, to be used as a cultural center dedicated to contemporary art.
Today, 21 pieces belonging to his collection of primitive African and pre-Columbian art and 113 artworks dating from the 1960's to 1990's can be seen.
Villa & Collection Panza
Wander manicured gardens, elegant halls and... glowing neon art galleries!
Get your tickets now!

Opening times: Tuesday - Sunday from 10 to 18
Villa e Collezione Panza
Piazza Litta 1,
Biumo Superiore (Varese)
Tel: +39 0332 283960
Villa Menafoglio Litta Panza