Hotels to remember: Canal Grande
Canal Grande: introduction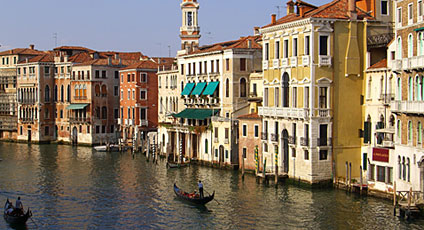 Arriving in Venice along the Ponte della Libertà bridge, the visitor's first contact with the city is that made with the Canal Grande, the principal waterway of Venice which divides the city in two.
Canal Grande extends for four kilometers in length, with a width which varies from thirty to seventy meters and a depth of approximately five meters. Crossed by the city's three most important bridges, Ponte di Rilato, Ponte degli Scalzi and Ponte dell'Accademia, the banks of the Canal Grande, called the "Canalasso" by the people of Venice, are lined with more than two hundred Palazzo built on ancient piles, and once home to the Venetian aristocracy.
Not surprisingly, the Canal Grande is considered to be the most elegant thoroughfare in the world. Buildings of particular interest facing on to the Canal Grande include Palazzo Libia, Palazzo Foscari, the Fondaco dei Turchi, Palazzo Vendramin-Calergi, Ca' d'Oro, Palazzo Pesaro, Palazzo dei Camerlenghi, Palazzo Grimani and Palazzo Grassi.
Canal Grande: places to see in the area