Hotels to remember: Palazzo Ducale
Palazzo Ducale: introduction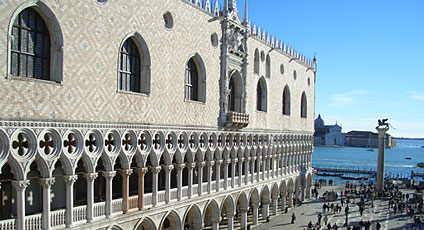 Considered to be the finest example of Venetian Gothic, Palazzo Ducale was erected in the IX centuryand initially had the form of a fortified castle. Through the centuries the building was damaged on more than one occasion and was victim of various fires.
Today, after numerous reconstructions, it embodies the design completed between the XIV and XVI century. Since its inauguration, the building has consistently occupied an important role in the history of Venice; as seat of the Government of the Serenissima, High Court and Residence of the Doge. Each and every feature of the Palazzo Ducale reflects the power and glory of the Serenissima, from the immense allegorical paintings to the priceless stucco work, from the highly decorative marble façade to the ostentatiously sumptuous inner halls.
Every detail of the Palazzo was designed so as to impress the ambassadors visiting and to reinforce the powerful image of the Republic. Palazzo Ducale is one of the finest masterpieces of renaissance art from the 1600's.
Palazzo Ducale: places to see in the area